With thousands of possible combinations, our world-exclusive 3D Designer lets you create the most exciting trampoline ever
Whether your yard is big or small, a new trampoline can breathe life into any outdoor area. Imagine how excited your kids will be when they see their bouncy playset, and all the laughs and giggles they'll have while jumping.
If your trampoline is going to be the star of your yard, you'll want to make sure that it not only looks good but also sparks your kids' imagination. After all, a trampoline is not only a place for bouncing — it could also be a safari tent, royal castle, candy house, superhero cave and more!
That's why we've created the Kahuna 3D Trampoline Designer — the world's first web app where you can create the custom trampoline of your dreams.
Here's how it works:
1.) Choose a custom trampoline model
You can choose from one of our three Round models: Classic, Twister and Blizzard. What's the difference, you ask?
The Kahuna Round Classic is our bestselling line, with its big, thrilling bounce and comprehensive safety features. With six sizes, six colours and three jump mats to choose from, you can flex your creative muscles and design a standout trampoline.
Want a springless trampoline? The Kahuna Twister offers all the fun of our Classic Model plus a totally spring-free design. It uses elastic bands instead of springs to create a gentler, more responsive bounce. Available in five sizes and four colours.
Kids so active they're just like a whirlwind? Then the Kahuna Blizzard will be their new bestie! Dual poles make this model incredibly sturdy, which means your kids can jump their hearts out and burn off all that excess energy. You can choose from five sizes, six colours and our three exclusive jump mats.
2.) Choose a size
Depending on the model you choose, you can get a 6ft, 8ft, 10ft, 12ft, 14ft or 16ft Kahuna custom trampoline!
Not sure which size to pick? Our Trampoline Buying Guide has a section on choosing the right trampoline size for your yard. If you've got a smaller yard, make sure to measure the space — you'll want to leave 2 metres all around the trampoline for clearance.
3.) Pick the perfect colour and jump mat
Time to get creative! With the right colour and jump mat, your custom trampoline can go from 'alright' to 'awesome!' Here are some ideas to get you and your kids inspired:
A pink trampoline for tea time with princesses
A green trampoline to mimic an overgrown forest cabin
An orange trampoline with a basketball ring for little MVPs
A rainbow trampoline for endless jumping games and activities
4.) Add as many accessories as you want!
Roof shades and basketball hoops, my oh my! Make your custom Kahuna even more awesome with add-ons, accessories and more.
Convert your trampoline into a mini hangout with our roof shade, or amp up the action with a basketball hoop. We also have a light-up basketball kit so your kids can practise their trick shots even after the sunset!
Don't forget the ladder, shoe tidy and ground anchor kit for the best backyard experience.
5.) Bounce away!
Happy with your creation? Now all you have to do is check out. Pick up your order at our Melbourne showroom or wait for delivery to your doorstep — the choice is yours! We look forward to seeing you and your kids enjoy your custom Kahuna trampoline!
Get inspired with these custom Kahuna creations!
To help you get started, we're sharing real trampoline designs from the Kahuna family! We hope our creations get you inspired to design the custom trampoline of your dreams: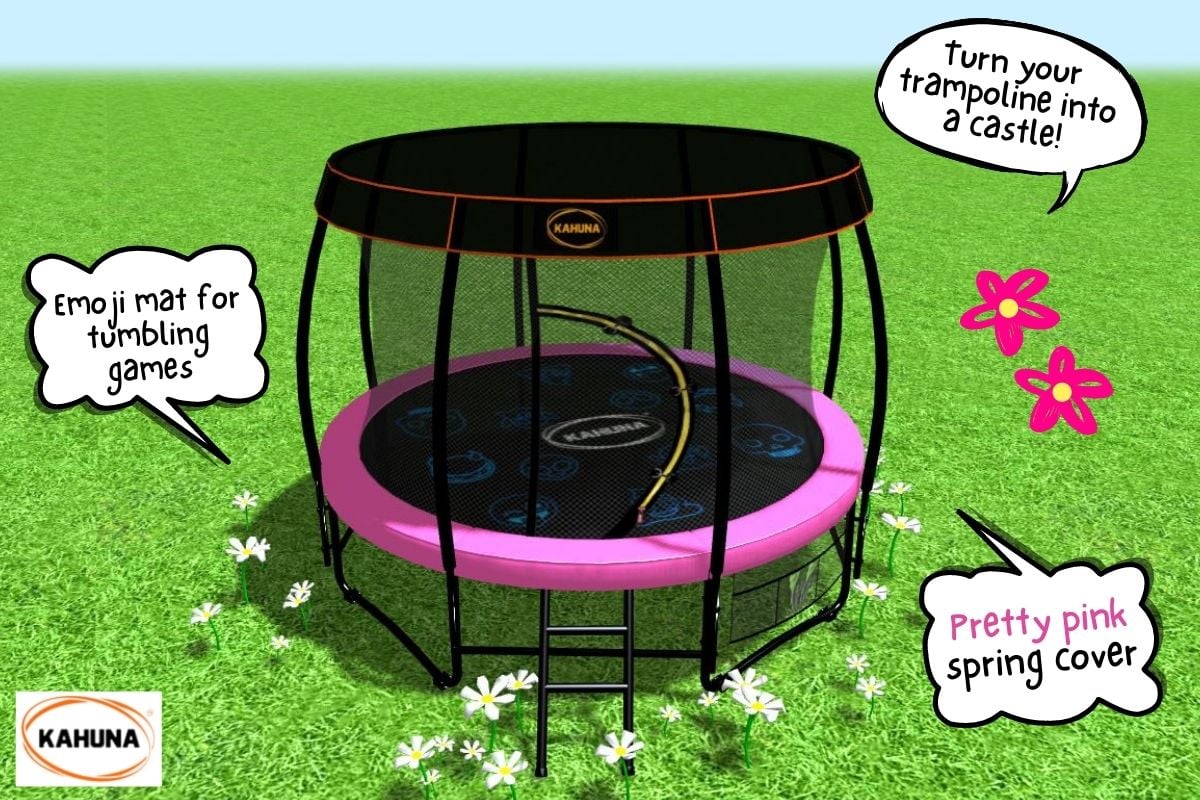 Shara - 12ft Pink Classic Trampoline with Roof Shade and Emoji Mat
Pink is my favourite colour, so a pink trampoline would be simply amazing! The 12ft size is big enough for teens and adults, plus the roof shade means I can hang out here in the afternoons. I can even turn it into a fort!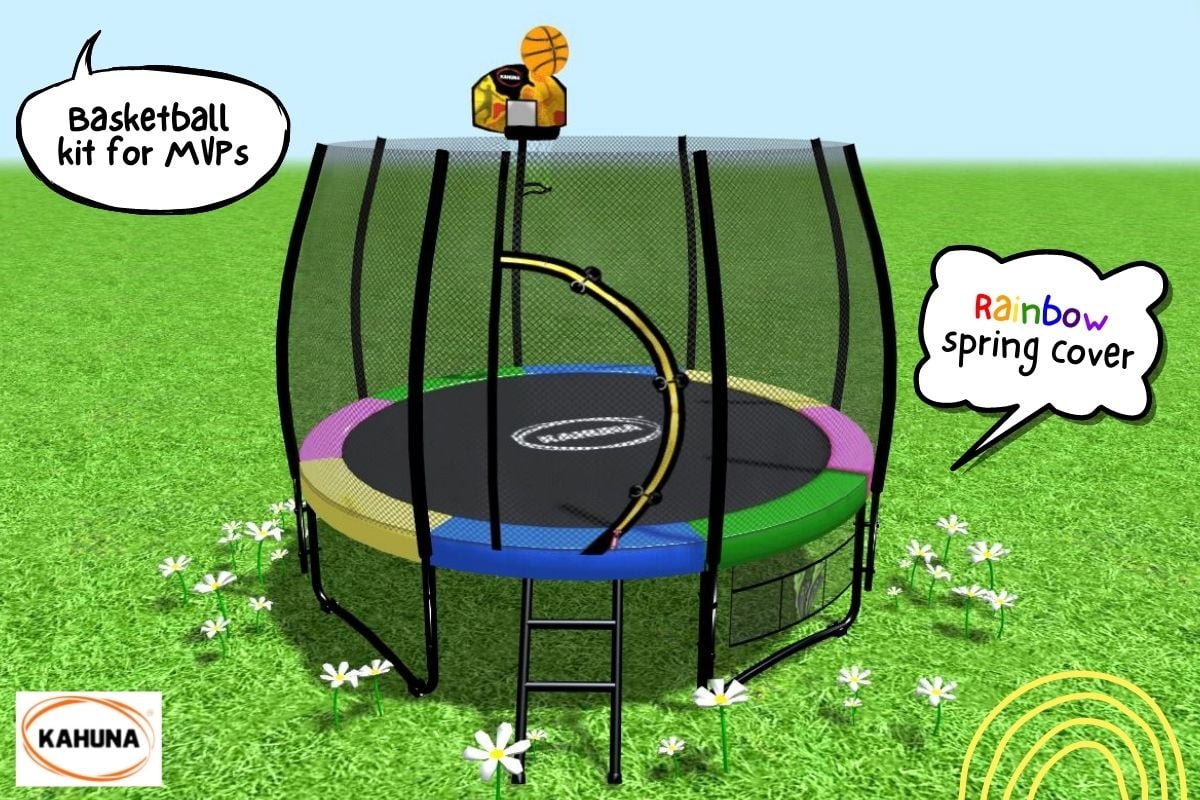 Arby, Azi and Mizu - 10ft Rainbow Twister Trampoline with Basketball Kit
A trampoline with a basketball on it would make the best trampoline for my kids. The rainbow colour will surely make it more fun and entertaining!
JD - 12ft Purple Classic Trampoline with Roof Shade
Can never go wrong with anything that's purple, so I chose a purple trampoline. Fitted it with a roof shade so I could use the trampoline during the hot summer days. This is #MyPerfectTrampoline!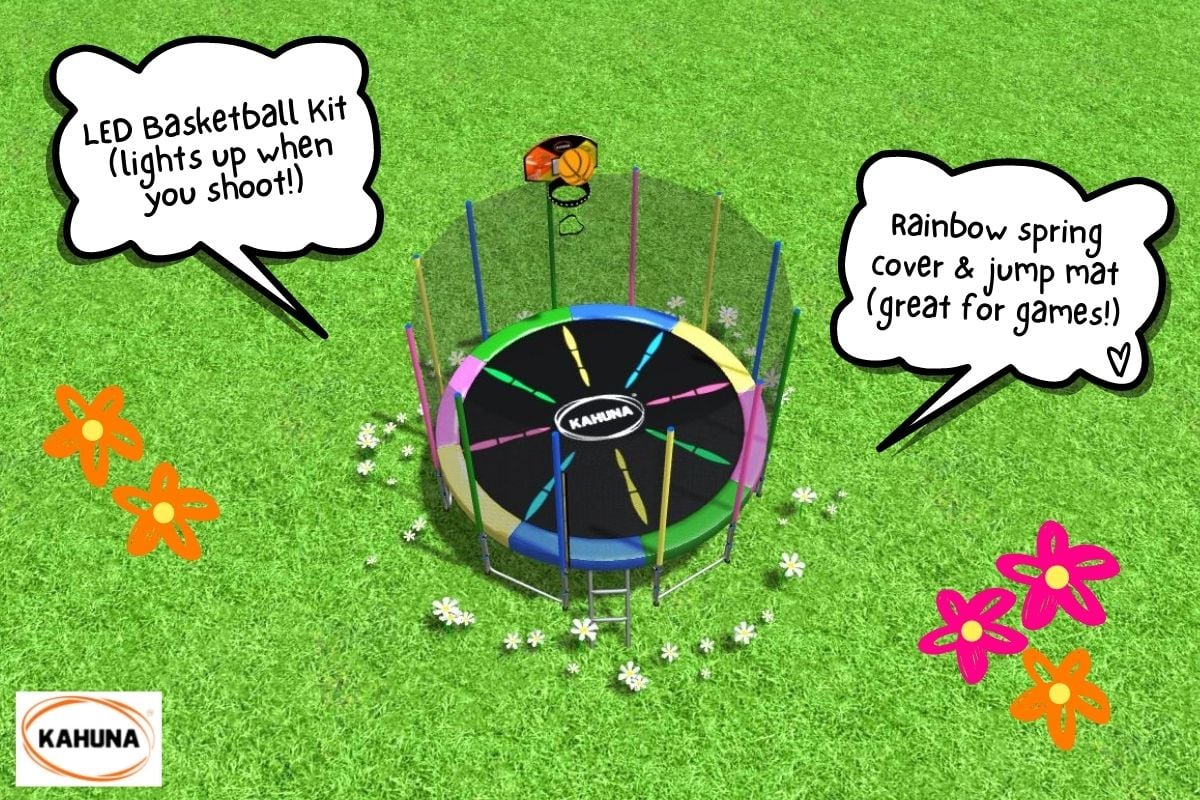 Len - 12ft Rainbow Blizzard Trampoline with Basketball Kit
I prefer a multicoloured trampoline so it would feel vividly fun. The 12ft size is quite spacious for the kids to have a wonderful playing experience. I also added an LED basketball hoop for extra fun activities.
Share your custom trampoline creations using #MyPerfectTrampoline
Ready to start designing your custom trampoline? We'd love to see your creations! Share the 3D designs you made on social media using the hashtag #MyPerfectTrampoline and get the chance to be featured in this blog post!
We can't wait to see your designs — and your super awesome Kahuna trampolines right in your yard!