Looking to buy the best trampoline for your kids, but don't know where to start? 
You're not the only one. 
Nowadays, there are dozens, if not hundreds, of Australian trampolines out on the market. If you've just decided to get a backyard bouncer, you'll be amazed at just how many types, shapes and sizes of trampolines are available to buy.
While that's a good thing, it also means you'll have to spend more time comparing models to find the best one for your family. 
After all, a good trampoline provides years of outdoor fun — and it's going to be a permanent addition to your yard. 
That said, choosing a trampoline can be a pretty big decision, but it doesn't have to stress you out. 
We've created this Australian trampoline guide to help you find the best and safest trampoline for your home, so your kids can look forward to unlimited jumping fun.
In this trampoline guide, we'll cover: 
How to choose the best trampoline for Australian backyards
What type, shape and size trampoline you should get 
How much space you need in your yard 
What else you should consider when buying a trampoline
Where to buy trampolines in Melbourne and the rest of Australia 
Let's get to it!
How to choose the best trampoline for Australian backyards
You may be thinking: "Trampolines all work the same way, so it doesn't really matter which one I buy. Right?" 
That's where you'll be wrong. Because Australian families love trampolines so much, manufacturers have come up with more and better designs to suit every user. 
A toddler trampoline will look (and perform) differently from one made for teens — so you should take some time to consider which model is right for your family. 
In this guide, we'll talk about the things you should consider when buying a trampoline in Australia, including safety, durability, type, shape, size and accessories.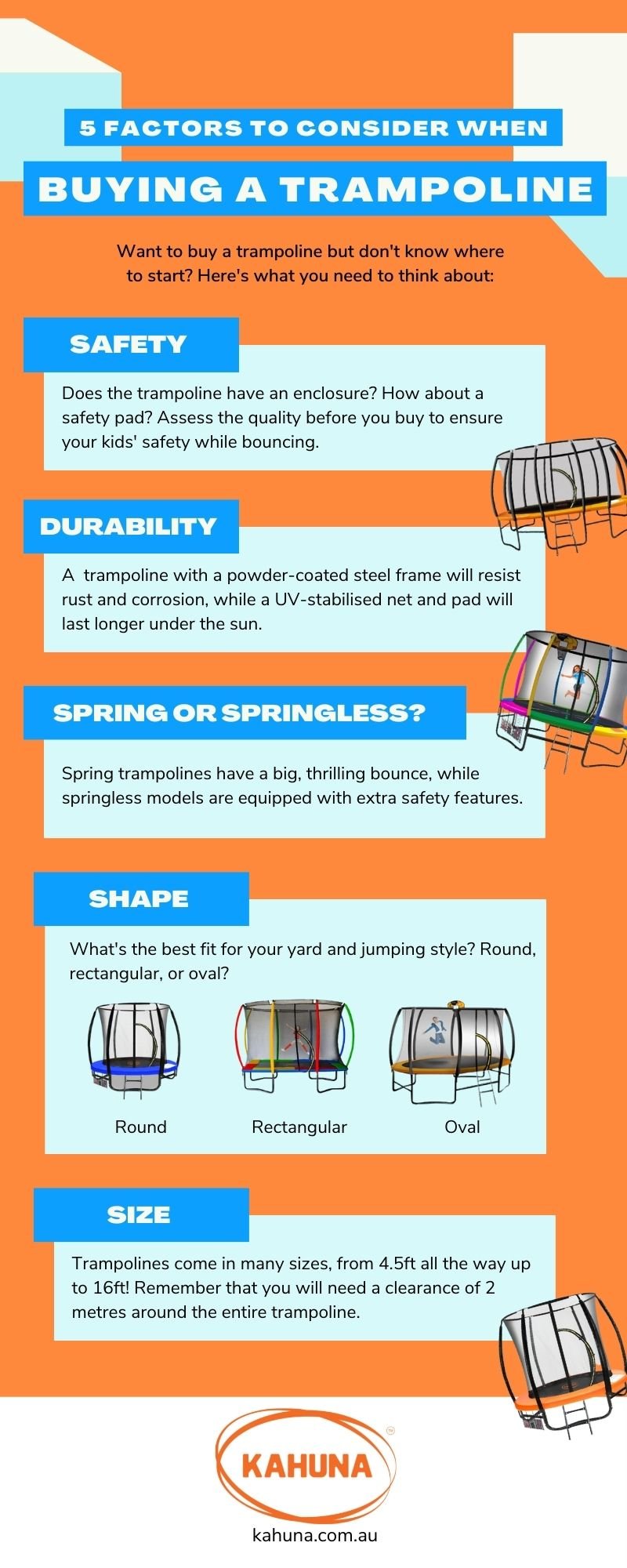 Trampoline Safety 
When buying a kids' trampoline, the most important thing to consider is safety. Most trampolines now come with enclosures and spring covers, but you'll also want to check for other safety features. 
Use this checklist to pre-determine if a trampoline is safe for use: 
Does the trampoline have an enclosure?
Does it have a safety pad covering the springs? 
Is there a ladder included, and is it removable? (A removable ladder helps prevent kids from jumping without supervision). 
Is the frame strong and sturdy?
Is the weight capacity listed, and is it adequate for your needs?
Can you use ground anchors to secure the trampoline? 
Does the trampoline have additional safety features (e.g., double-secure entrance)? 
Do you have enough space for the trampoline?
If a trampoline passes the above checklist, it is generally considered safe for backyard use. 
However, adult supervision is still the most effective way to keep children safe while jumping. A spotter should always be present when the trampoline is being used to enforce safety rules.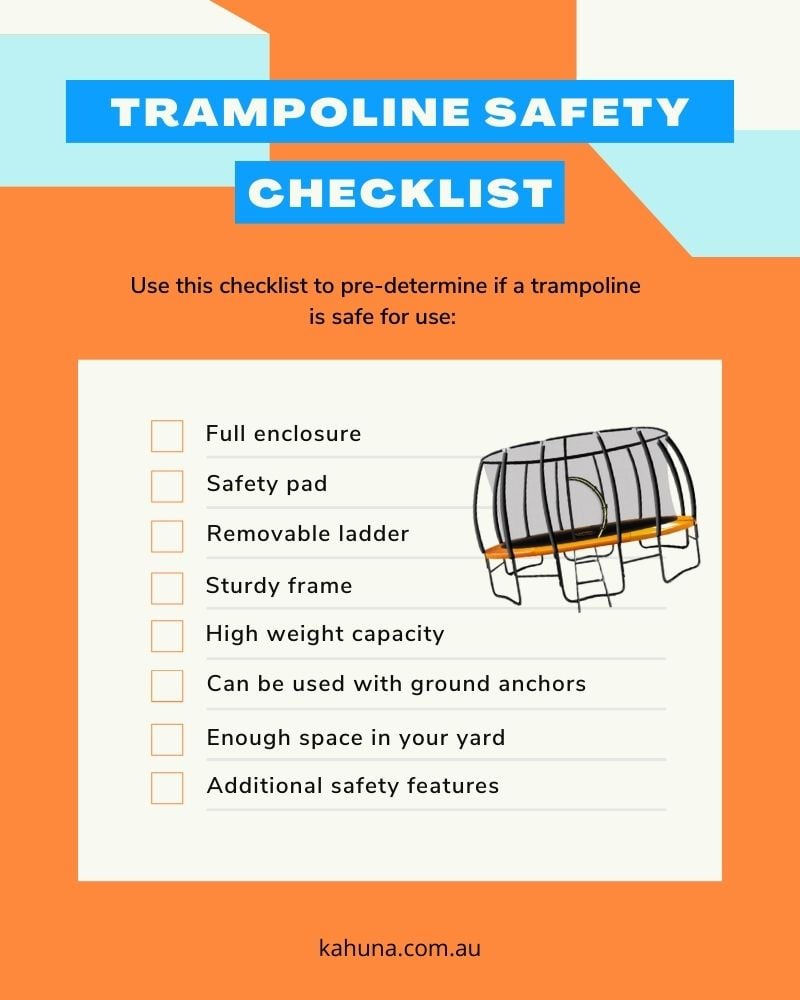 Trampoline Durability
We all know how harsh the weather in Australia can get, so you'll want to buy a trampoline that can handle being out in the open. 
We're not talking weeks or months, but years of exposure to wind, rain and intense heat. 
Trampolines with a powder-coated steel frame are a good choice, as the coating will resist rust and corrosion. You should also check if the enclosure and padding are UV-stabilised, as these are the parts that are most exposed to the sun. 
Like other large equipment, trampolines also require care and maintenance. Check with the manufacturer for instructions on how to clean and maintain your bouncer, including parts replacement if necessary. 
A trampoline with readily available spare parts will be easier to maintain, and you can replace parts as needed instead of buying a whole new trampoline.
That translates to more fun and bigger savings! 
Types: Springless vs. Coil Spring Trampolines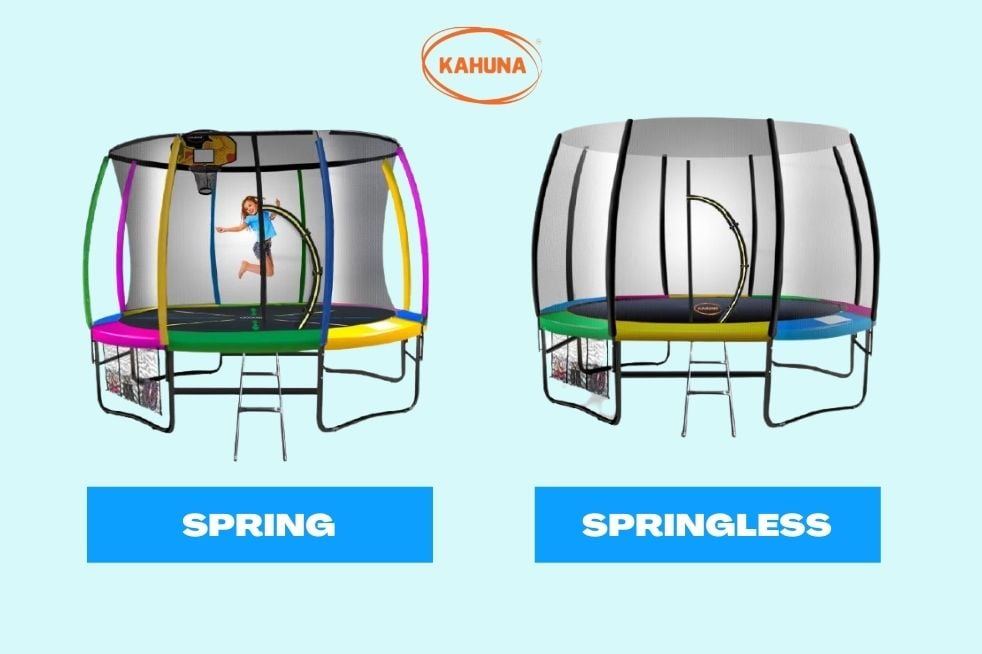 There are two types of trampolines: coil spring (conventional) and springless. 
Coil Spring
Most trampolines are equipped with coil springs to create a big, thrilling bounce. Spring trampolines are available in a variety of sizes and shapes, so you'll have more options when shopping for one. Choose a model with thick safety padding to prevent contact with the springs. 
Springless 
Springless trampolines use elastic straps or rods to generate bounce. In some cases, this removes the need for a safety pad, so you can enjoy a bigger jumping area. The bounce is gentler and more responsive, plus there are fewer sharp edges to worry about. 
Spring vs. springless trampolines — which is better?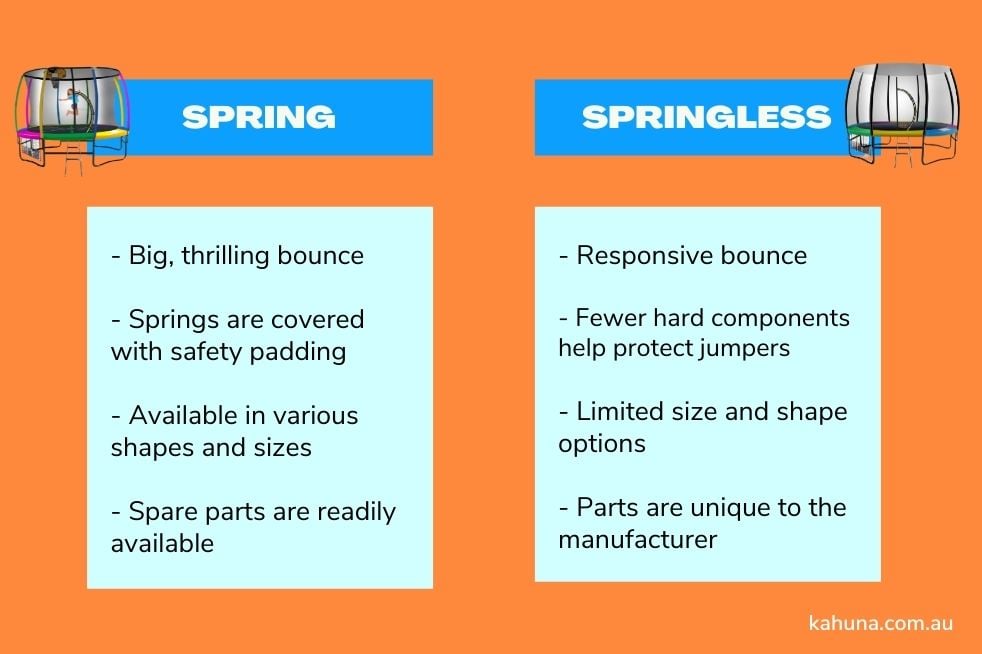 Trampoline Shapes: Round, Rectangular or Oval?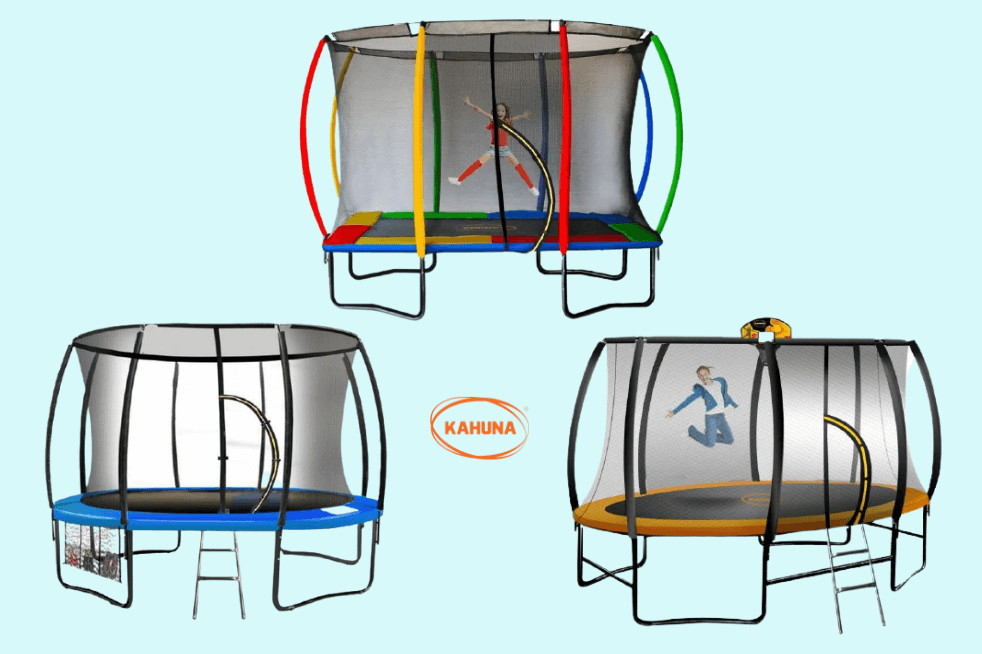 Did you know that trampolines came in shapes other than round? Yes, you can now buy rectangle and oval trampolines for your backyard! Let's look at the pros and cons of each shape: 
Round Trampoline Pros

Round Trampoline Cons

Available in a variety of sizes, from 4.5ft to 16ft
Springs all work together to create a powerful bounce 
Naturally guides jumpers to the centre for a safer experience 
Compact design suits plenty of yards
Great for young children and leisure use
Plenty of affordable options
Spare parts are readily available

Sides are not as bouncy as the middle
May be too small for trampoline tricks 
Rectangle Trampoline Pros

Rectangle Trampoline Cons

Available in multiple sizes
Ideal for narrower, grid-like yards
More space for jumping compared to round models 
Allows for high, controlled bouncing all over the jump mat 
Bounce is even across all areas, so you can jump in place 
Great for gymnastics lessons or practice 

Weight is not evenly distributed, which may cause one side to wear out faster
More difficult to assemble than round models
Heavier frame requires additional ground anchors 
Oval Trampoline Pros

Oval Trampoline Cons

Unique shape 
Great combination of round and rectangular trampoline features
Promotes even weight distribution
Offers plenty of space for practising jumps and tricks
All springs are engaged to create a thrilling bounce

Less popular and may be difficult to find 
Spare parts may not always be available
Often more expensive compared to round and rectangular models 
Trampoline Size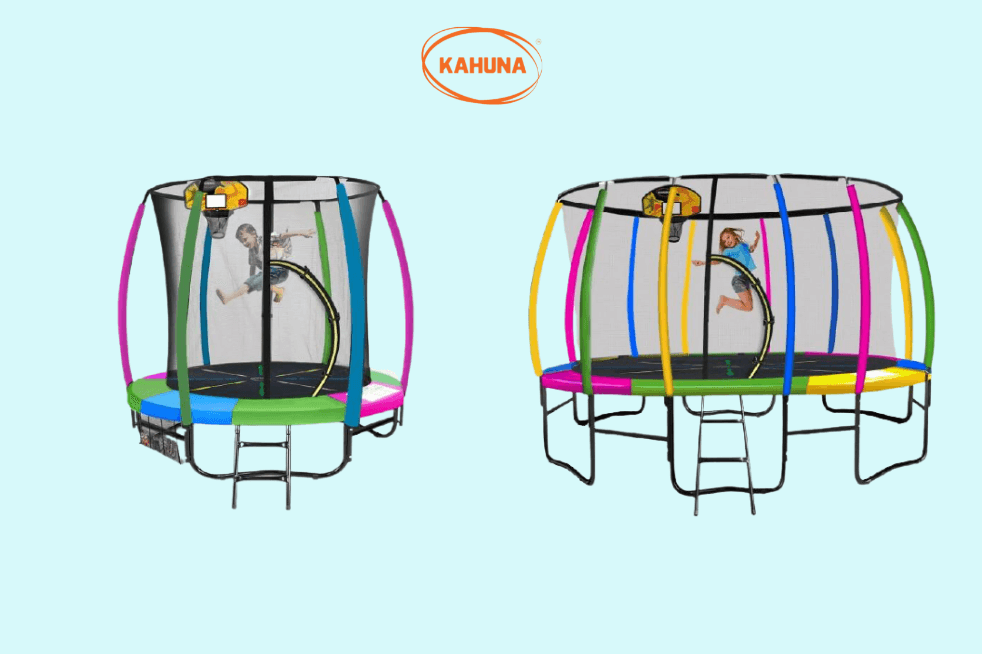 Trampolines are available in an array of sizes, with 10ft trampolines being the 'middle ground.' 
When deciding what size to get, there are two things to consider: your available outdoor space and who will use the trampoline. 
Where will you place the trampoline?
It's recommended to keep a minimum clearance of two metres around the entire trampoline and two metres above the jumping mat. The area must be kept clear of rocks, plants, branches, play equipment or any other obstructions. This will protect your children in case they jump too high or fall off the sides. 
The ground where the trampoline will be installed is also important. Choose a solid, level area with shock-absorbing properties, such as grass or bark. Grass is often a good choice, as it also allows for the use of ground anchors. 
Who will be using the trampoline?
A 6ft trampoline may be perfect for small kids, but it won't be much fun for adults or teens. Consider the age and weight of the people who will be using the trampoline before you take a pick. 
The smallest models have a user weight capacity of 60kg, while larger options can go up to 150kg or more. Make sure that the trampoline you choose can adequately support each user. 
Lastly, remember that your kids are still growing — so if your yard is large enough, you might want to get the largest trampoline possible. Best of all, it lets everyone in the family experience the thrill of jumping. 
Trampoline Accessories
Bouncing is plenty of fun on its own, but accessories can make it even more exciting. Add-ons such as basketball kits or roof shades are not only 'nice to have,' but can also transform your trampoline into the ultimate backyard hangout. 
Other accessories include printed jump mats, reversible padding, balls, ladders, ground anchor kits and even trampoline socks. Buying a trampoline with compatible accessories will keep your family happy, active and entertained for hours.
What else should you consider when buying a trampoline?
Warranty — Check if the trampoline is covered by warranty, how long the coverage is, and the manufacturer's return and refund policy. 
Assembly — Is the trampoline easy to assemble? Most trampolines can be assembled in two to three hours by two people with basic tools. If you are pressed for time or need assistance, you can also hire a team of installers to do it for you. 
Spare Parts — Are spare parts readily available? Spare parts let you extend the life of your trampoline and keep it looking (and performing) like new. 
Where to buy trampolines in Melbourne
If you're looking for trampolines for sale in Melbourne, you don't have to search far. Online retailers such as Kahuna offer a range of models to suit every yard. Plus, the shopping process is incredibly simple — you can browse trampolines, compare models, and get your trampoline delivered straight to your Melbourne home. 
Prefer to shop in-store? Some retailers also have Melbourne showrooms where you can see the assembled trampolines up close. This is a good way to assess the quality, safety, and durability of a trampoline before making a purchase. Another option is to visit big-box retailers that carry outdoor play equipment. 
Doing some research online before heading to a showroom or store will save you a lot of time and gas spent driving around! 
Where to buy trampolines Australia wide 
Whether you're in Sydney, Brisbane, Perth or the Gold Coast, you can buy a trampoline from the comfort of your own couch! With most retailers offering fast nationwide shipping, it's all a matter of choosing the best bouncer for your kids. 
It's time to bounce!
We hope this guide helped you narrow down the best trampolines for sale in Australia. Stay tuned for our next blog posts, and follow us on Instagram to get awesome deals on outdoor play equipment. Now, it's time to bounce away!