You want to get a trampoline but you're not sure of the shape? Here's what you need to consider when choosing between round or rectangle bouncers!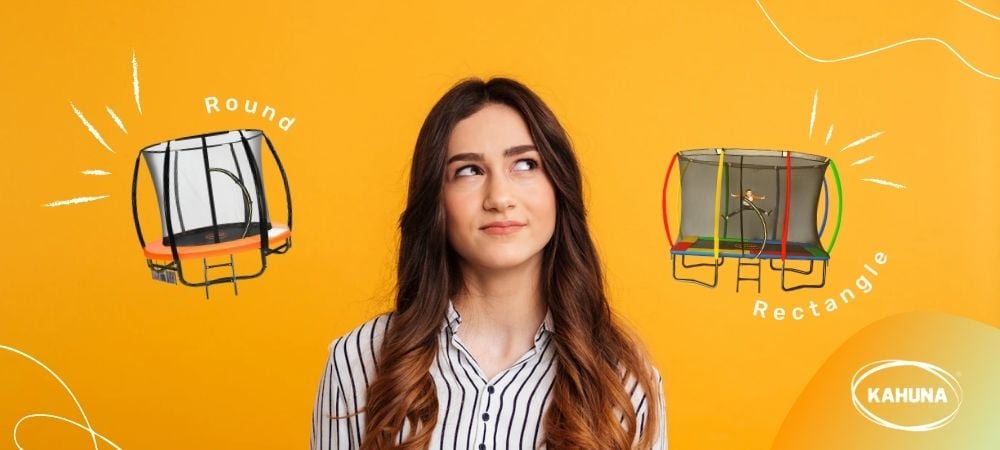 Jumping on a trampoline is a dream come true for many kids and kids at heart. As many parents will tell you, nothing compares to the thrill and excitement it brings. With a backyard trampoline, you're sure to make good memories and epic experiences with your family.
But with so many options, you may find it hard to choose the best one for you. There are just so many factors to consider when buying a trampoline, starting with the shape alone. This post will guide you when choosing between a round vs. rectangle trampoline for your backyard.
Factors to consider when choosing round vs. rectangle trampolines:
Location
Bounce Quality
Safety and Durability
Weight Limitations
Location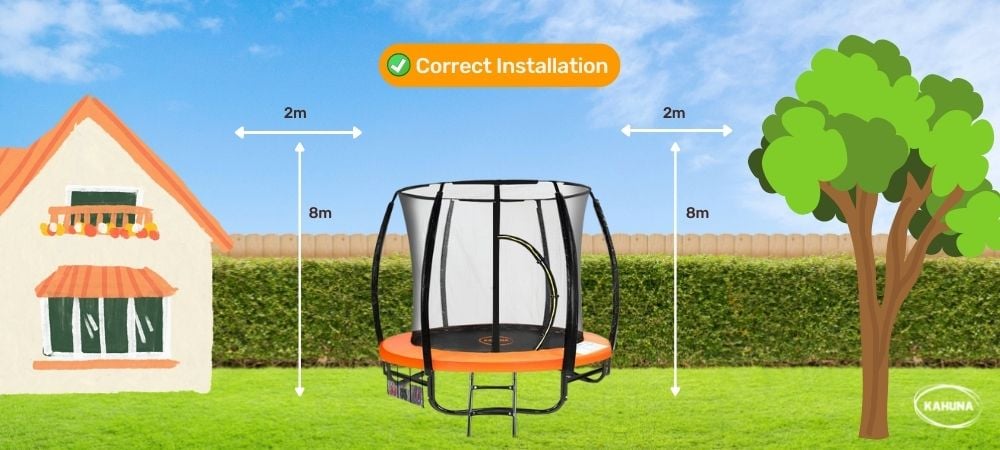 Trampolines can't be placed just anywhere. This means that the size of your yard will directly affect whether you can place a round or rectangle trampoline there. Most trampolines require a surrounding clearance of at least 2 metres — so if you have a narrow yard, you can maximise the space by getting a rectangular trampoline.
Rectangular trampolines also require more overhead clearance, as they provide a bigger bounce. The best thing to do is place your trampoline, whether it's round or rectangular, in a clear space with at least 8 metres of clearance above it.
Bounce Quality
If you're curious, the shape of the trampoline does have an effect on the height of the bounce.
On a round trampoline, bouncing on the centre will give a higher and more powerful bounce compared to jumping on the sides. That's because the force from each jump is spread out evenly among the springs, and jumping in the centre lets you maximise that force. It's also much safer to jump in the middle.
On the other hand, rectangle trampolines provide a high bounce regardless of what side you're jumping on. You can jump on nearly any spot and the number of springs engaged will remain more or less the same. However, this can cause some springs to wear down faster than the others — so you'll need to check them often.
Safety and Durability
Of course, jumping on a trampoline is more exciting when you know that it's safe. Proper and regular maintenance will keep your trampolines in good condition for years.
Usually, round trampolines have spare parts readily available since they're a more common shape. This means you can always refresh and repair round trampolines compared to rectangle ones. If you're set on a rectangular model, make sure to buy from a retailer with available spare parts.
Weight Limitations
Make sure to check the weight limitations of the trampoline you set your eyes on. Ensure that the weight capacity is higher than the weight of the ones who will use it.
To compare, our 8ft round trampoline has an 80kg weight capacity while our 6ft by 9ft rectangle trampoline has a 150kg weight capacity.
Take note that the size and shape of a trampoline can greatly affect its capacity. Round trampolines are perfect for most family yards, while rectangular trampolines are a great choice for athletes and gymnasts.
Round vs. rectangle trampolines: what should you choose?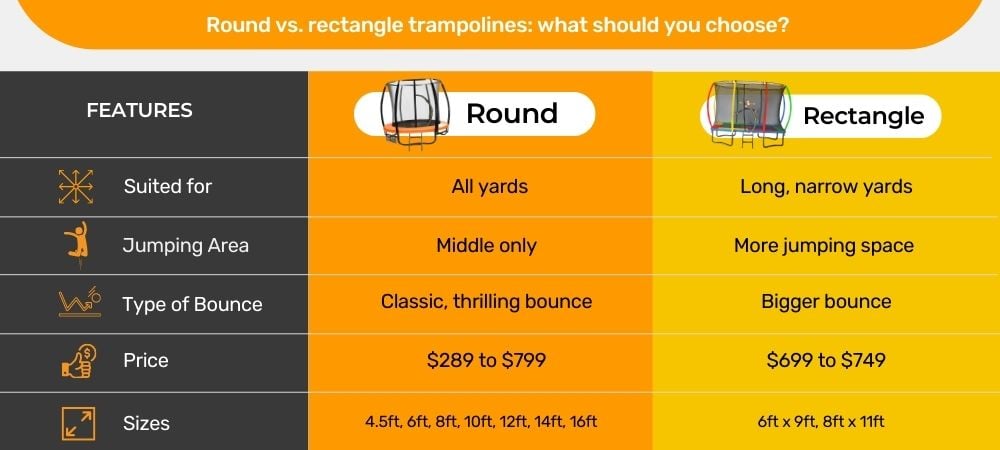 Knowing these factors, you can outright decide whether to get a round trampoline or a rectangle trampoline depending on your needs. The following lists show the pros and cons of these two shapes:
Round Trampolines Pros
Classic and popular
Can be easily enclosed with a safety net
Does not require much space compared to a rectangular trampoline
Evenly spreads weight on all springs
Available in a wide range of sizes
Round Trampolines Cons
Smaller jumping space
Does not have as high of a bounce compared to a rectangle trampoline
Rectangle Trampolines Pros
Offers higher jumps than a round trampoline
Allows better control on landing
Provides more space for jumping
Great for teens and gymnasts
Rectangle Trampolines Cons
Requires bigger space
More expensive than round trampolines
One side may stretch faster due to its shape and distribution of force on each jump
Find your perfect round or rectangular trampoline at Kahuna
At Kahuna, we have quality trampolines in various sizes and shapes that are sure to bring you and your family safe and exciting playtime!
Kahuna Round Trampolines
Our round trampolines are available in Classic, Rainbow and Springless models from 6 feet to 16 feet in diameter. These round trampolines come in 5 colours and can be fitted with a basketball set for more fun.
Classic Round Trampolines
Timeless as the dreams of bouncing on a trampoline, the Kahuna Classic round trampolines are sure to give you all the bouncy fun that you look forward to. Our trampolines are equipped with a safety net that's made from fine, UV-stabilised mesh. The zip-and-clip entrance makes sure that kids are protected from all sides.
Rainbow Round Trampolines
Your kids will surely enjoy bouncing around our Rainbow round trampolines! Designed with UV-stabilised and tear-resistant rainbow padding, you can ensure that your kids are safe while having the best time they can have on a bouncy trampoline.
The ultra-tough springs and high-tension system ensure that your kids will have a safe and fun bouncing experience. Of course, these springs are protected from the Australian sun with the thick and vibrant safety padding.
Twister Round Trampolines
Life is more exciting with a twist. With the Twister round trampolines, your kids are sure to have fun with a completely springless bounce. These springless trampolines give out smooth jumps which make them softer and gentler on the knees. More than that, the safety that the Twister round trampolines provide will surely make each jump worry-free and more enjoyable.
Kahuna Rectangle Trampolines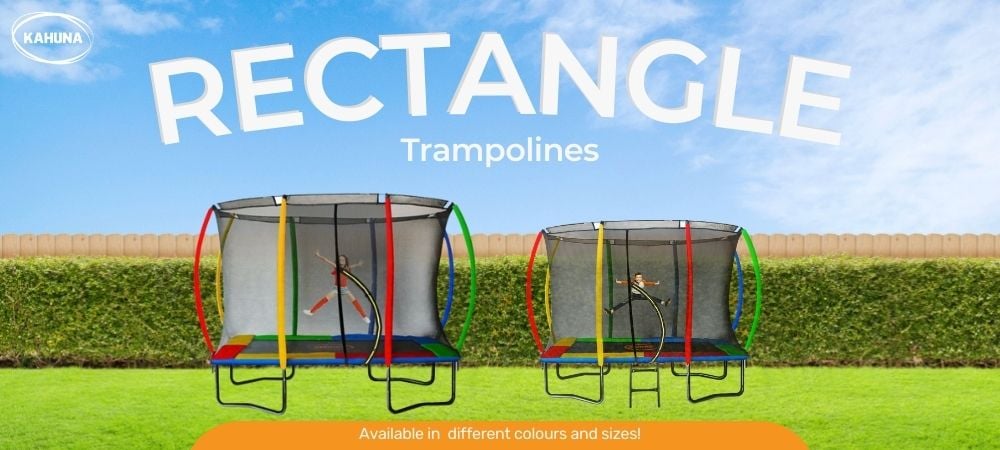 Good for kids and kids at heart, rectangle trampolines at Kahuna offer plenty of space good for high and powerful jumps. The rectangle trampolines are available in 8ft x 11ft and 6ft x 9ft sizes. They can also have a basketball set attached to them.
6ft x 9ft Rectangle Trampoline
Enjoy the thrill of jumping with your family with the Kahuna 6ft x 9ft rectangle trampoline. Made from high-strength materials, our trampolines are weather-resistant from the steel frame to the safety net and padding. The powder-coated frames resist rust and corrosion, which ensures that this trampoline is made to last.
8ft x 11ft Rectangle Trampoline
Good for open and big spaces, the 8ft x 11ft rectangle trampolines are sure to add excitement to your homes!
Whether you choose a round trampoline or a rectangle trampoline from Kahuna, you are sure to have fun and make more precious moments with your family. Shop for the perfect backyard trampoline today!