Want to foster your kids' creative abilities and move them away from their devices? Check out these top fun activities to nurture your kids' creativity and imagination!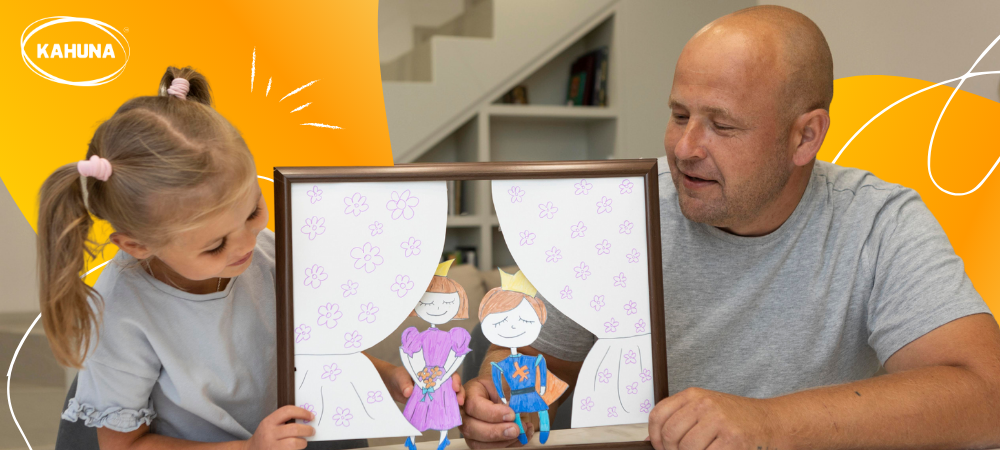 One of the greatest joys of watching your little ones grow up is witnessing the power of their imagination. A child's imagination is boundless. With this tool, they can turn a banana into a phone, a line of chairs into a school bus or even a cardboard box into a TV!
Besides the obvious fun that kids experience when they use their imagination, there are also some key benefits of tapping into this developmental milestone, including:
boosted creativity,
increased curiosity,
an opportunity to practice language and social skills,
improved problem-solving skills, and more!
Developing your child's imagination can be easy peasy with the below ideas! Here are some imagination activities that will spark that fire and get their creative juices flowing…
1. Storytime
Reading and storytelling are both incredible ways to let your child's imagination run loose! There are many ways to incorporate storytime into their daily routines. To start, you can create a nightly ritual of bedtime reading, and let them choose a book to get them excited.
To switch things up, you can also ask them to share their own bedtime story and allow them to make one up as they go. If you want to get them more involved and push them to use their imagination even more, have them create their own storybook for the next bedtime reading session! This short video shows you exactly how:
2. Creative play
Set a time to have unstructured play with your kids. This means having no pre-determined agenda. Just your child and whatever they feel like doing. To get started, you can ask them 'what games do you feel like playing today?' or 'what can we do with the toys we have?' and let them lead the way. This also teaches them decision-making and leadership skills.
If you're looking for a fun way to promote imagination, autonomy and higher-level developmental skills, consider getting your kids a ride on car! The skills used while driving the car naturally lend themselves to the realm of imagination, because what's more imaginative and thrilling for a kid than quite literally imagining themselves on a real road?
The possibilities for imaginative play are endless with ride-on-cars, it's really up to the kids what they decide to come up with! Some other popular ideas include:
Make-believe car chases — Nothing beats the thrill that comes along with this game
'Grown ups' — Believe it or not, pretending to be adults and all grown up is a fun activity for kids. Kids imagining themselves as adults with a ride-on-car can look like running pretend errands, doing chores around the house, and more!
Whatever your kids can imagine! With ride-on-cars, they can even create their own games with their own rules.
Check Out Our Luxury Ride On Cars!
3. Unplug the devices and let them get bored
Oftentimes, the reason our kids might not seem as imaginative is because of the many hours they spend behind the TV each day. We often find them saying exactly what they heard in the latest movie or show that they watched.
For a change, try unplugging their devices and see what they come up with! Letting them get bored forces them to get creative and come up with a solution to their boredom. This activity also guides them to explore their interests and hobbies that will stay with them as they grow older.
4. Get outdoors
There are infinite imagination activities that you can do with your child just by taking a step outside! You can arrange a scavenger hunt, play pretend or have a stargazing session! In the daytime, you can lie on your back and watch the clouds move, and ask them questions like 'what shapes do you see?' or 'what does that cloud over there remind you of?' and see what their imagination leads them to say.
5. Play dress-up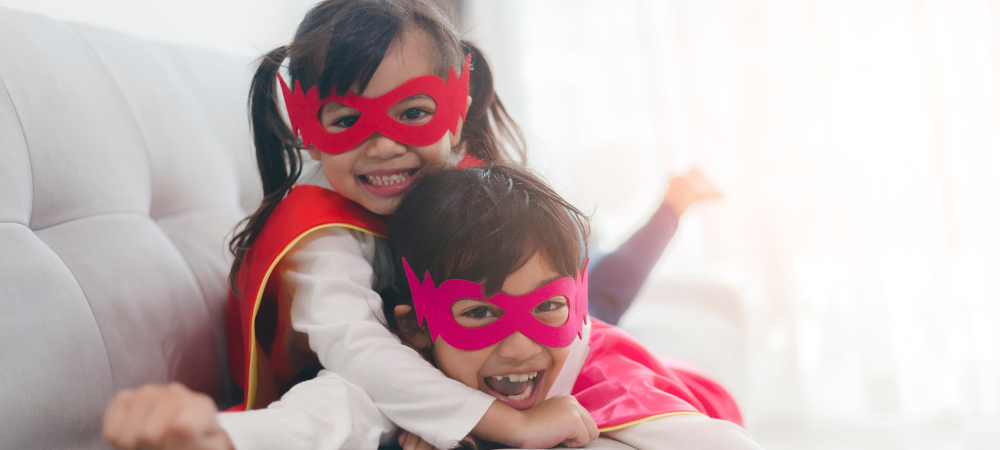 Everyone loves Halloween not only because of the delicious candy but also because of the opportunity to wear a costume and 'be' what you want for a day. Why not take this same energy into the year and have a dedicated day of the week to play dress-up with the kids? Dress-up is known for nurturing a child's imagination by allowing them to use their creative thinking skills to create make-believe scenes and act out different scenarios.
Collect old clothes, scarves, Halloween costumes and colourful hats and let them design outfits to their heart's content. To take it a step further, you can even visit a local thrift store and allow them to create their own dedicated closet for dress-up time!
6. Put on a puppet show
Similar to playing dress-up, putting on a puppet show nurtures both a child's imagination and communication skills. Puppet play leads kids to explore their creative expression, draw on their experiences and showcase their emotions to come up with a performance that they're ultimately proud of!
If you don't have props, follow this easy video along with your kids to create your own puppets from household items!
7. Cook dinner for a night
There's no doubt that cooking is an art, which is why it's one of the top imagination activities you can do with your kids. Cooking requires constant experimentation and creativity, especially when you're not following a recipe!
A few ideas to ease into cooking with your kids include:
Make the pizza dough, and have your kids put the cheese and veggies on top as they like (you can also ask them to make a smiley face, or to come up with different patterns with the toppings)
Make colourful pancake batter together, and decorate the pancakes with sprinkles, fruit etc!
Put the ball in the kids' court by giving them a few ingredients, and asking them to come up with their own recipe idea!
What are you waiting for? 
The great thing about imagination activities is that you can get started with common household items. Take a pick from the above list and help your kids become more engaged, curious and social starting today!