Jumping on a trampoline is super fun for both adults and kids. More than just an outdoor activity, it's a great way to exercise and spend time with the family. Even better, it's guaranteed to get your kids away from electronics!
However, trampolines do come with their fair share of risks, especially when not used properly. As a parent or guardian, there are many things you can do to minimise these risks, so your family can continue to enjoy all the benefits of bouncing.
In this guide, you'll learn how to choose a safe trampoline and set it up properly. We'll also talk about trampoline safety rules and how to enforce them at home. Lastly, we'll share some key guidelines to follow when using the trampoline.
How to set up the safest trampoline possible
To ensure your family's safety, it's important to choose a solid, high-quality trampoline with a suitable weight limit. These tips can help you pick the right trampoline and set it up properly for safe bouncing:
Install a safety net. Choose a trampoline with an included net and make sure that it is taut around the jumping mat.
Cover the frame and springs with a safety pad. Do not let anyone sit on the safety pad when the trampoline is being used.
Choose the right size. Consider the size of your yard and the weight of the users when buying a trampoline for your family.
Keep a minimum clearance of 2 metres around the trampoline. This area should be clear of any obstructions, including walls, trees and other play equipment.
Make sure that the area above the trampoline is clear, so there's no risk of jumping into branches, clotheslines or wires.
Set up the trampoline on a level, shock-absorbing surface such as grass, bark or rubber mats. Do not place the trampoline directly on pavers or concrete.
Before every use, check the trampoline for any holes, loose bolts, dislodged springs, bent poles and other signs of wear and tear. Order replacement parts if necessary.
Supervising children on a trampoline
Even if your trampoline has an enclosure, supervising your children is still the most effective way to prevent accidents and injuries. Here are some trampoline safety reminders for parents or guardians:
Do not allow children younger than six years old on a full-sized trampoline. Consider a mini trampoline or provide other outdoor activities for younger children.
Allow only one person to jump at a time. If you have two or more children, set a time limit for each child so everybody can have their turn.
Keep the entrance closed. Children may not remember to close the trampoline net behind them, so keep an eye on the entrance and make sure that it's zipped up.
Do not allow somersaults or flips. Attempting advanced skills without proper training can lead to severe injuries. Contact a certified trampoline instructor for safe skills training.
Remove the ladder when the trampoline is not in use. This can help prevent children from using the trampoline without supervision.
Don't jump when the trampoline mat is wet. The slippery surface can lead to slips and falls.
Trampoline safety rules for kids and adults
These rules can help you and your child stay safe while having fun on the trampoline:
Only one jumper at a time.
Remove shoes and accessories that can get caught on the net.
Don't bring hard objects into the trampoline.
Always jump in the middle of the mat. Avoid bouncing on the net.
Use the trampoline ladder or carefully step off. Don't jump off the mat.
Avoid somersaults and flips. Only attempt them with a certified instructor.
You can also print out this Trampoline Safety Rules poster for your kids. There's one blank spot so you can write your own rules!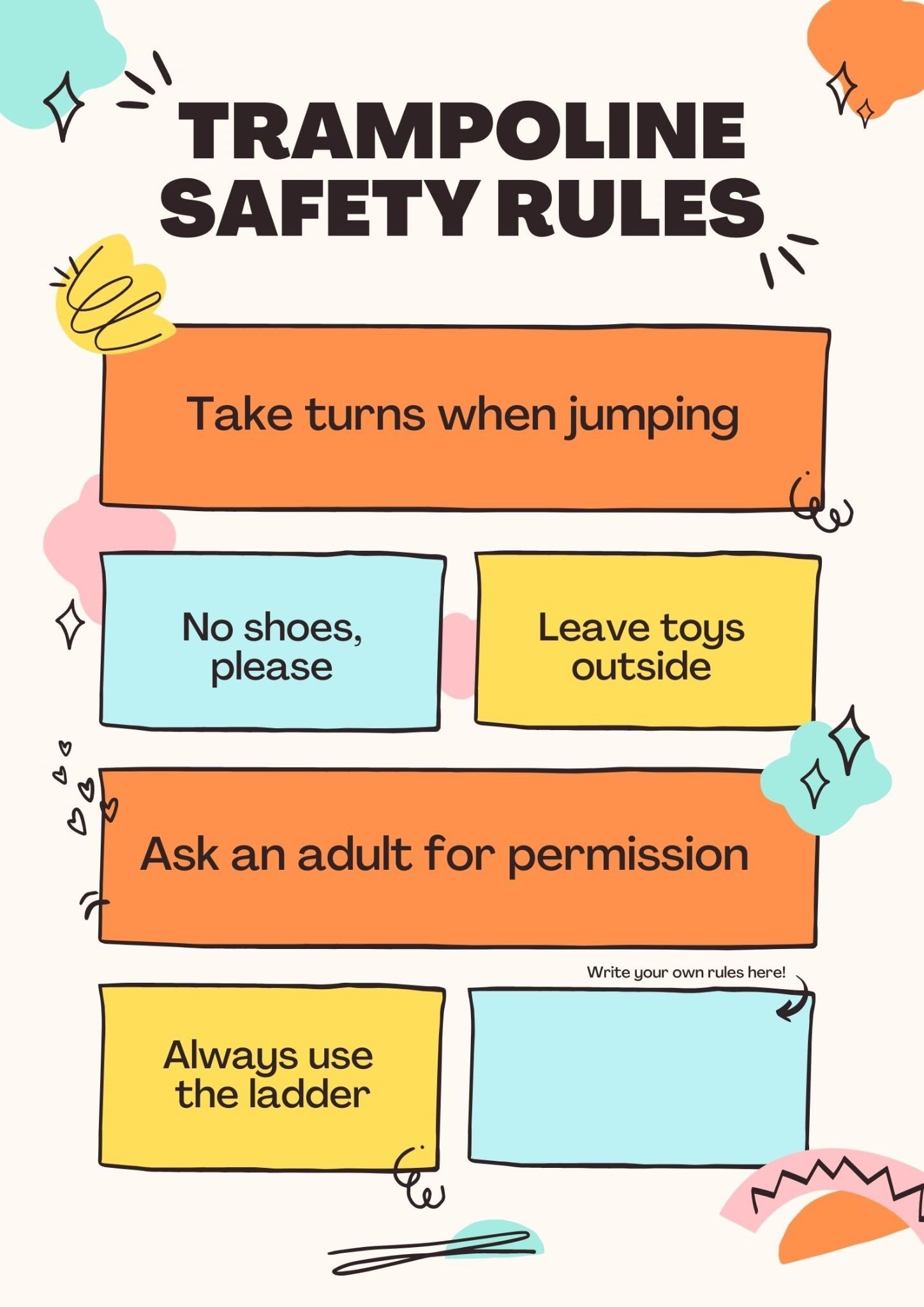 Safe bouncing ahead
A backyard trampoline is fun and exciting, but without safety precautions, it can lead to injury. It's important to choose a safe trampoline, set it up properly, supervise your children and enforce the rules of trampoline safety. Remember: safety comes first — and it's more fun in the long run!