With colder winds, longer nights and shorter days, the winter season is sure to give you more reasons to stay at home. These activity ideas will keep you and your kids busy (and happy) all winter long.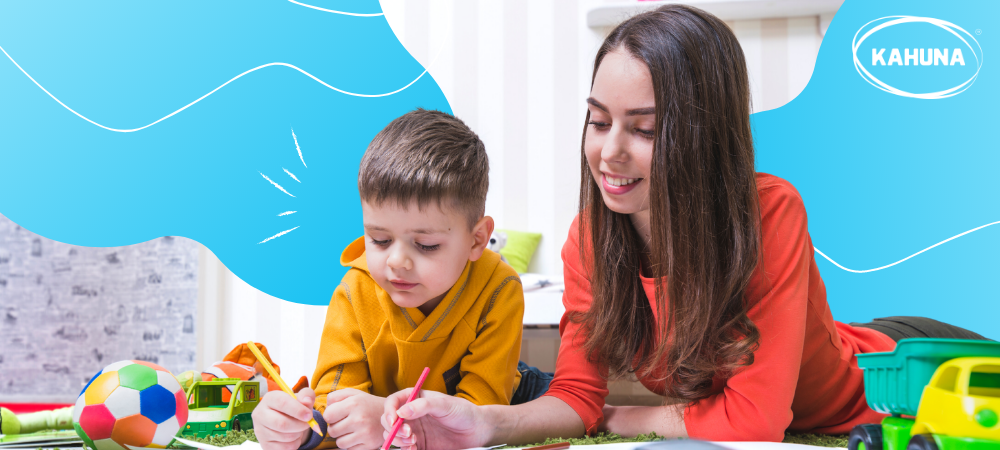 Cold and quiet as the season is, winter may seem boring with the lack of things to do.
However, as winter also exudes mystery, with rich imagination and a dash of curiosity, staying indoors can also bring lots of fun and adventure.
The allure of staying indoors with a warm beverage in your hand is often much more appealing than going outside and probably getting wet or chilly in the rain. But that doesn't mean you can't have any fun with the kids! These activities will surely give your kids a fun and memorable winter even if they stay indoors.
(Plus, we're giving away a Kahuna winter activity book which you can download for FREE below!)
Check out the following activities that will bring you hours of fun and pleasant memories!
9 fun indoor winter activities for the family
1. Movie and trivia night
Movie nights are definitely a classic way to bond and enjoy time together with your kids. To add more fun and excitement, you can play a trivia game about the movie you watched or look for easter eggs while watching.
2. Arts and crafts
Whether it's painting or knitting, arts and crafts are a great way to stimulate kids' creativity. Not only that, but it also improves their communication, coordination, listening skills and their overall imagination. Let your child use the time to try out various crafts or express their unique style.
If your kids need a little inspiration boost, our Winter Activity Book is a great place to start! Fully packed with exciting exercises such as colouring and word search, the Kahuna Winter Activity Book contains seven activities that are sure to bring fun both to you and your kids.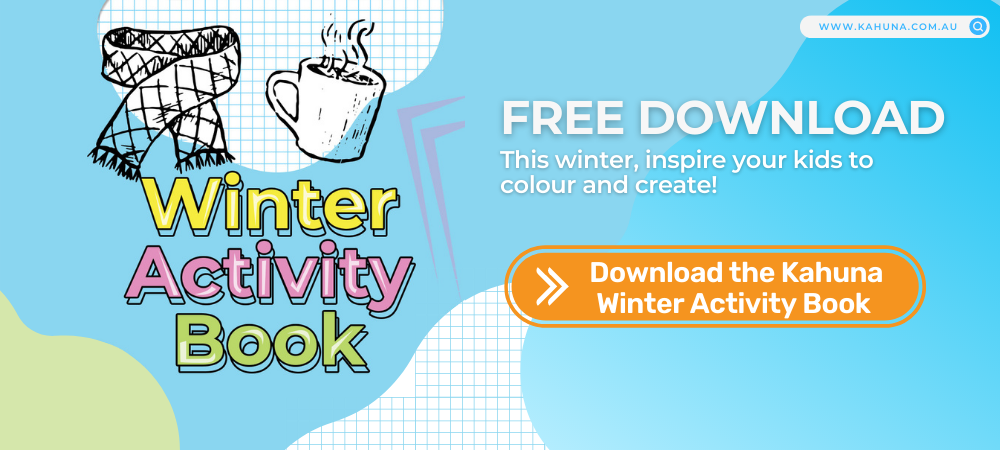 3. Learn something new
Learning has never been more convenient lately with the accessibility that the internet provides. With the wide array of resources and courses available online, you and your kids can learn new things and expand your knowledge together.
Aside from taking online courses, you can also visit the Kahuna Playground Blog to read up and explore more fun activities that you can do all year round with your family. 
4. Turn chores into games and contests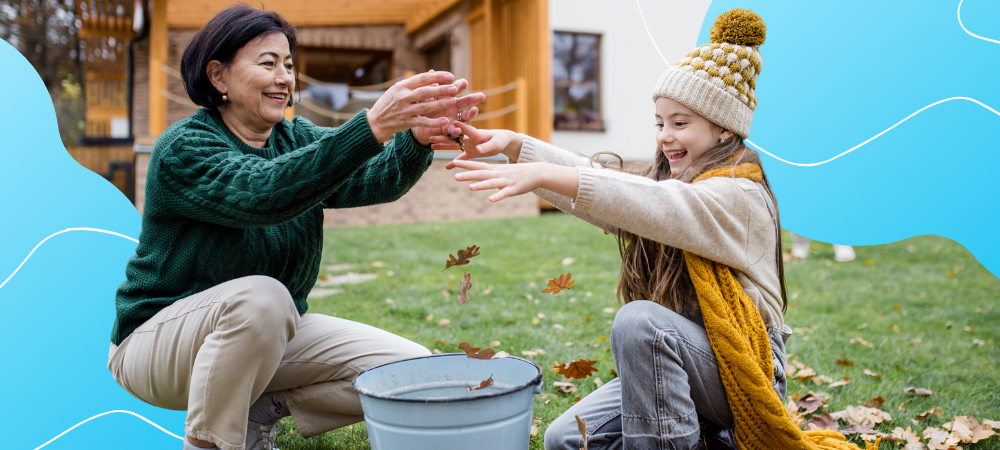 Who said chores have to be boring?
With the right twist and rewards, chores can be motivating and can be used as another activity for the family to bond over. You can use prizes such as an extra scoop of ice cream or more hours of playtime as a reward for who finishes first or completes more chores. Doing this can spark creativity and efficiency in your kids as well!
Here are some chores you can turn into family contests or games:
turning off switches and appliances,
setting the dining table,
sweeping the floor,
folding clothes,
shoveling snow and more!
Most chores can be made fun by turning them into a race, but spontaneous dance contests are also great! 
5. Game nights
Online gaming is a big part of pop culture and lifestyle. With the internet, kids can now access thousands of games online. Of course, the use of the internet by the kids must still be monitored and their use of gadgets must also be regulated. If you're trying to lessen your kids' screen time, why not play board and card games instead? Games such as Monopoly, UNO, Scrabble and more are often easy to learn, and they're fun for the whole family.
6. Indoor camping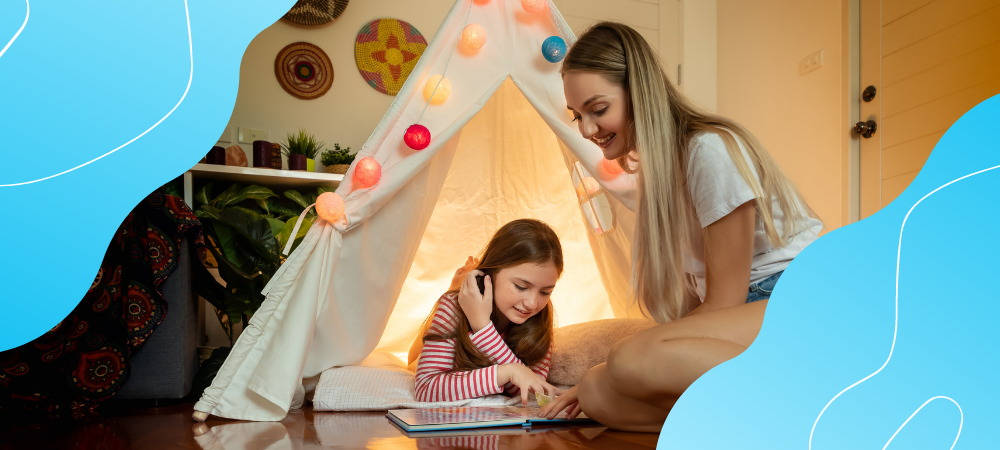 Who said camping is just for the outdoors?
Just grab some big blankets, pillows, flashlights and some warm yellow lights. and you can camp or make a fort in your kid's room. You can also make a fort out of your trampoline by adding some lights, covers, pillows and sheets. Add some warm fairy lights and decorate it with all the things your kid would like to see in a fort.
With the Kahuna trampolines that come in round, springless and rectangle variations, you can create a fort that will keep you and your kids cosy for as long as you want to stay there.
Of course, camping would not be complete without some stories, songs and jokes that could fill the night with some hearty memories. 
7. Get into DIYs
Possibilities are endless with the right amount of curiosity. With more time on your hands, you can do DIY activities with your family such as assembling furniture, making your indoor garden, building an aquarium or knitting sweaters and scarves.
8. The family that cooks together, stays together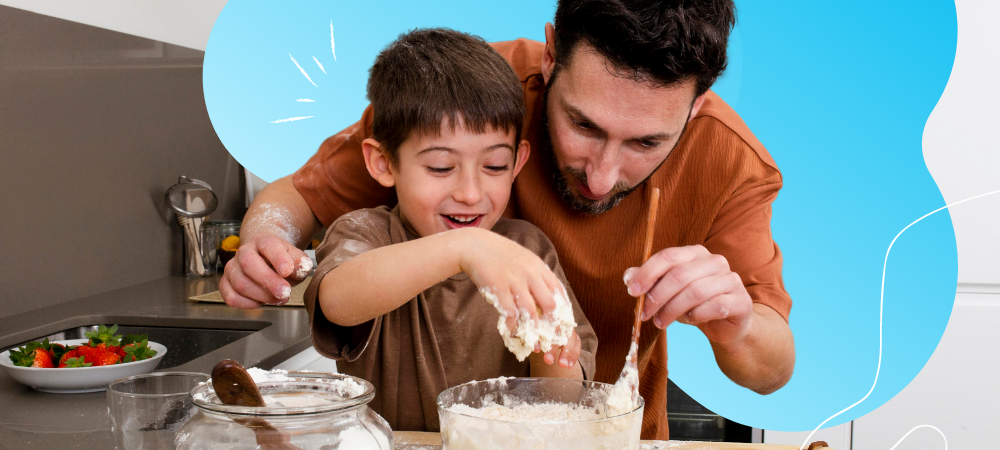 Aside from making warm beverages, you can spend your time indoors by trying new recipes or making your very own. Moreover, cooking together is always a fun bonding activity. You can ask your kids to help you wash ingredients or knead dough. Doing practical help and assistance in the kitchen will teach kids about cooking and preparing meals as they go hands-on.
9. Get active
Winter should not stop you and your kids from being fit and healthy and getting some exercise.
While you can work out indoors, you can also do some exercises in your yard such as jumping jacks, lunges and short runs or jogs. You can also play basketball if the weather permits!
If you and your kids just want to enjoy some sun in your yard, you can do some stretching exercises. Or, you can sit on a swing and feel the warmth of the winter sun.
If you have a bigger yard, your kids can also take a ride on their very own electric car. The ride will definitely give your kids a fun time even if they are just staying indoors.
Staying indoors has never been this fun! With these winter indoor activities, you and your kids will never run out of things to enjoy this season.