Looking for the most thrilling trampoline for your family this Christmas? You've come to the right place! A trampoline is one of the most memorable gifts you can give for any occasion — and it's perfect for bonding with the kids over the holidays!
What could be more special than seeing your kids' faces light up when they spot the new trampoline in the yard? And unlike other toys, a trampoline doesn't get boring after just a few months, it guarantees outdoor fun for many years to come.
If you're looking for the best trampoline for kids, we recommend the Kahuna Rainbow 8ft Trampoline. The size is just right for most yards, and there's an enclosure for safe bouncing. It's colourful and vibrant, perfect for sprucing up any outdoor area.
Not quite what you're looking for? We also have recommendations for every giftee, from gymnasts and teens to Mum and Dad as well. Find the best Christmas trampoline for your family in the guide below!
Best Trampoline for Toddlers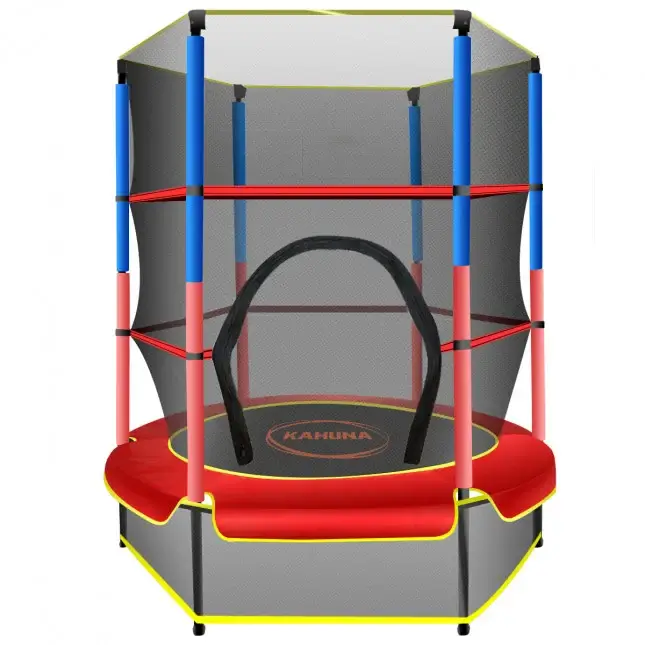 Kahuna Mini 4.5ft Trampoline
Designed for kids aged 3-6 years old, the Kahuna Mini Toddler Trampoline is packed with safety features. It has an enclosure and padding to protect little tots while bouncing. With six styles to choose from, you can get your child's favourite colour just in time for Christmas.
Best Trampoline for Older Kids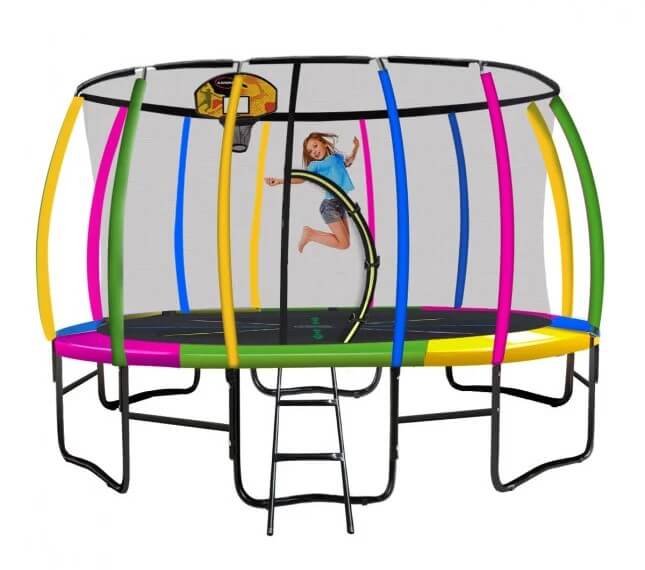 Kahuna Rainbow
We already touched on the Kahuna Rainbow 8ft earlier, but for larger yards, we recommend going with a different shape or size. This Kahuna exclusive trampoline comes in two shapes (round and rectangular) and multiple sizes (6ft to 16ft) to suit all yards.
No more squabbling about which colour to choose — the rainbow design will delight your kids and have them jumping for joy come Christmas, New Year's and beyond.
Best Trampoline for Gymnastics
Kahuna Oval and Rectangular
Have a future Olympic medalist at home? They'll love practising on the Kahuna Oval or Rectangular Trampoline. Whether it's splits, twirls, tuck jumps or other cool moves, these trampolines offer plenty of room (and bounce) to work on aerial skills. Big and bouncy, these are the best trampolines for gymnasts.
Safety Tip: When practising gymnastics tricks, make sure that the enclosure is installed. Always practise new tricks under the supervision of a certified instructor.
Best Trampoline for Teens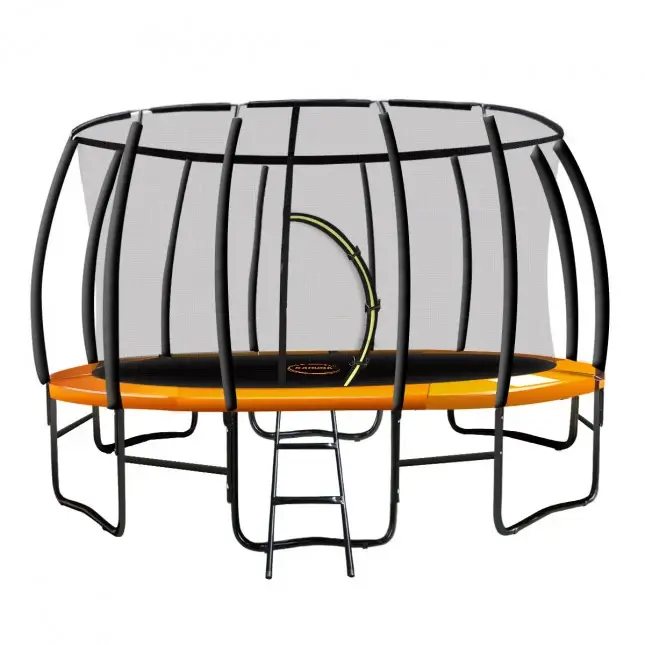 Kahuna 14ft Trampoline with LED Basketball Kit
Everybody loves the thrill of jumping on a trampoline, and that includes teens! With a 14ft backyard trampoline (or bigger), your kids will have one more reason to get off their phones. Add a LED basketball kit for shooting practice, and treat your high-schoolers to the most awesome afternoons at home.
Best Fitness Trampoline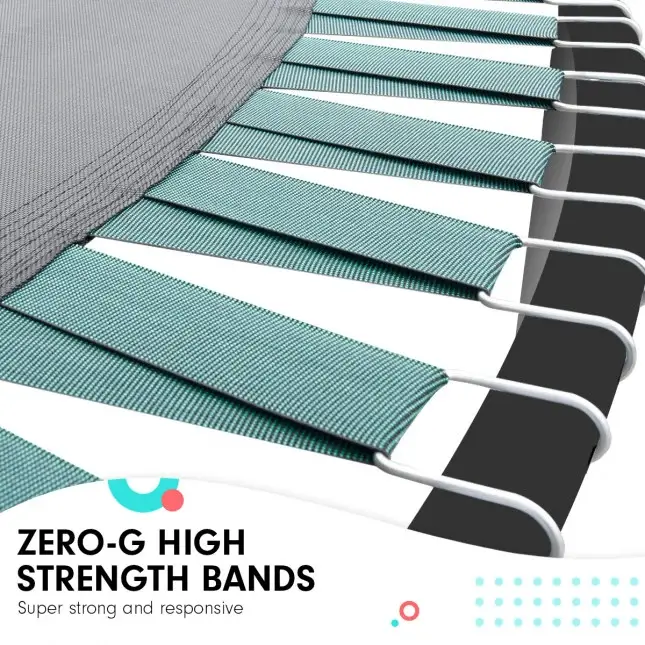 Kahuna 10ft Springless Trampoline
Jumping on a trampoline is not only fun — it's great for your health too. More than just a vigorous cardio workout, it also helps improve your balance and coordination. Start a healthy new habit in 2022 with a 10ft springless trampoline. Easy on the knees and joints, these bouncers allow you to work out and enjoy the thrill for longer. Isn't it time you gave yourself a present this wonderful?
Best Trampoline for the Whole Family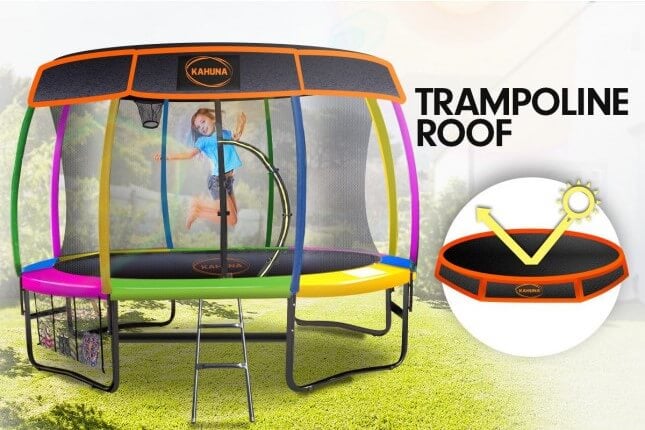 Kahuna 16ft Trampoline with Roof Shade
If you've always dreamt of having a large trampoline, there's no better time to get one than this coming Christmas. A 16ft trampoline lets you do more than just bounce; with a little imagination, it can also become a cubby house or tent for family movie night. Just add a UV-blocking roof shade and you have an instant outdoor hangout!
Safety Tip: Ensure that the total weight on the trampoline doesn't exceed the rating. Do not allow more than one person to jump on the trampoline at a time.
3 Reasons Why a Trampoline Is the Ultimate Christmas Gift
Years of Enjoyment
Many kids get bored of toys after just a few months. But not trampolines! A high-quality model will bring joy to your yard and keep your children active and happy for years. Choosing a manufacturer with readily available spare parts will also let you extend your trampoline's lifespan. That's countless (and priceless) hours of giggles and delight.
Encourage Outdoor Play
What could be better than a gift that encourages healthy outdoor play? Exercising on a trampoline comes with plenty of benefits, such as better posture and balance, improved coordination, stronger muscles and more. And on top of the workout, you can also enjoy the fresh air and sunshine!
Boosts Activity and Imagination
There's more to a trampoline than just jumping up and down. With a little bit of imagination, kids can create their own games or design the ultimate outdoor hangout. Parents can also get in their cardio or do some yoga. With just a little bit of imagination, your family can enjoy endless outdoor fun.
Get Your Trampoline Online Shopping Done Early!
This year, give the gift of outdoor play with Kahuna. Our trampolines are built to last through vigorous play and harsh weather conditions, so your kids can look forward to years of active fun.
We ship to Brisbane, Melbourne, Perth, Sydney and more, so you can shop from the best trampolines Australia wide and get your brand new Kahuna in time for a Christmas Day surprise.
Order your Christmas trampolines now or contact us for any concerns or inquiries. We hope our trampolines will delight your kids this holiday season and beyond!