With so many spectacular beaches, lakes and rivers, Australia is one of the world's best stand up paddle boarding destinations. Our diverse waterways make it possible to enjoy everything that an inflatable stand up paddle board (iSUP) has to offer, like surfing, fishing, kayaking, SUP yoga and of course, good old stand up paddle boarding!
Whether you've rented a SUP before or you're totally new to it, it pays to do some research before buying your first inflatable stand up paddle board. After all, you don't want to be stuck with an iSUP that brings more headaches than fun.
In this guide, we'll walk you through choosing the best inflatable paddle boards for beginners. You'll find information on paddle board types and shapes, as well as tips on finding the right iSUP size for your body type. We'll also talk about the fin system and paddle — two components that can make or break your paddling experience. Lastly, we'll cover accessories and extras to make your paddling experience as smooth as possible.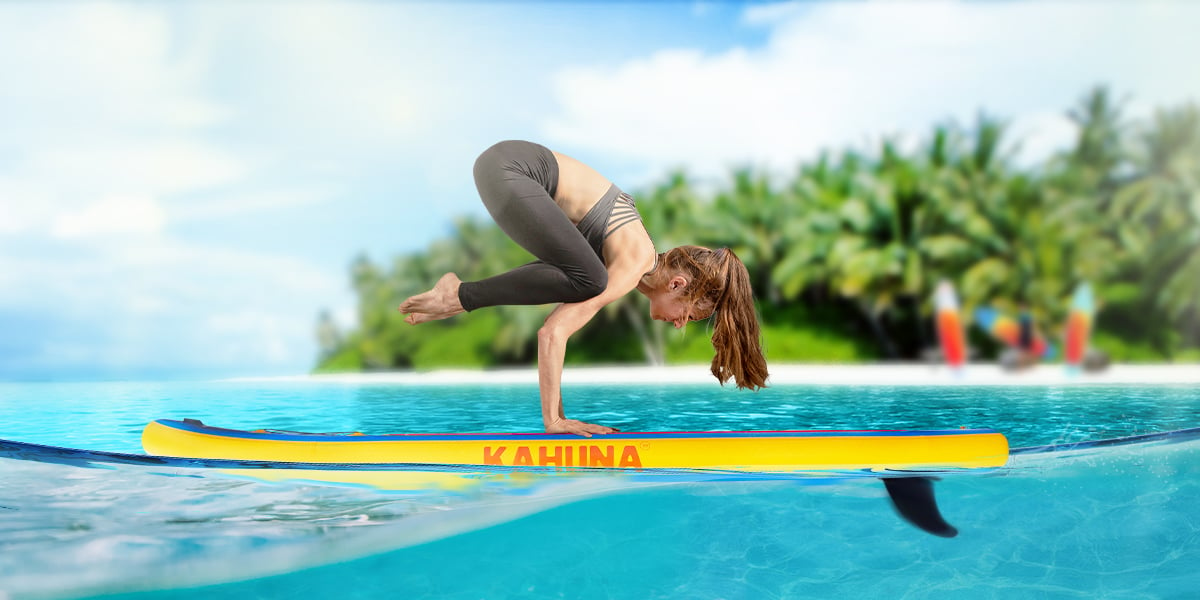 Stand up paddle board types
If you're new to paddle boarding, you're in luck — there's no shortage of great iSUP options out there. From all-around kits to specialised boards, you're sure to find a SUP that suits your interests and skill level.
At the same time, you might be overwhelmed by the sheer number of boards on the market, with categories such as surfing, touring, all-around and more. There's some overlap between these types, but knowing the difference will make it easier to choose a paddle board that suits you.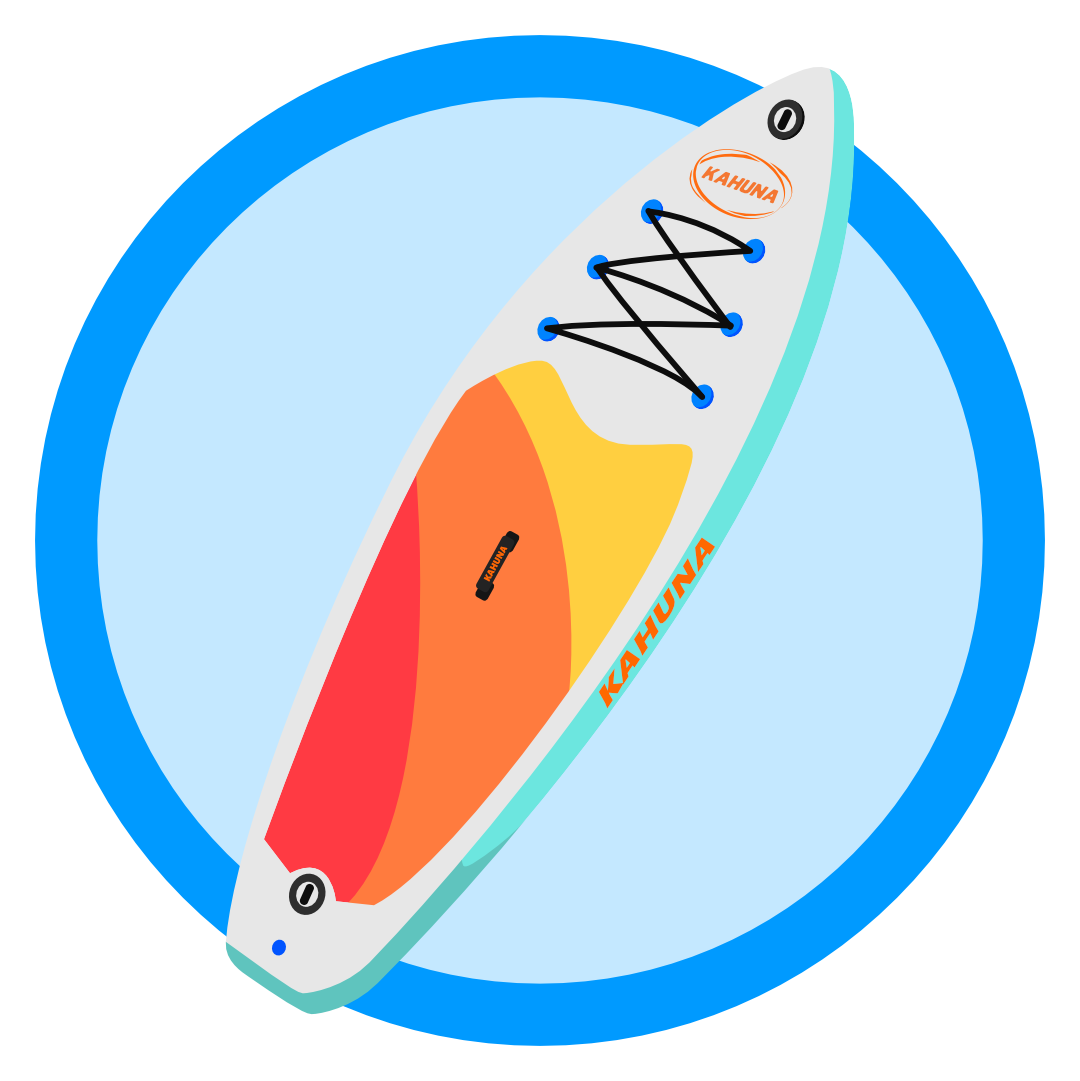 All-Around 
Best for beginners and leisure paddlers.

As the name suggests, an all-around SUP can be used for a wide range of activities. You can paddle out on the lake, hit the beach for a morning surf or enjoy a refreshing SUP yoga session. These boards are highly versatile, making them a great option for kids, beginners and leisure paddlers. Most all-around boards are 10 to 11 feet long, but their popularity means you can find the right size for your requirements.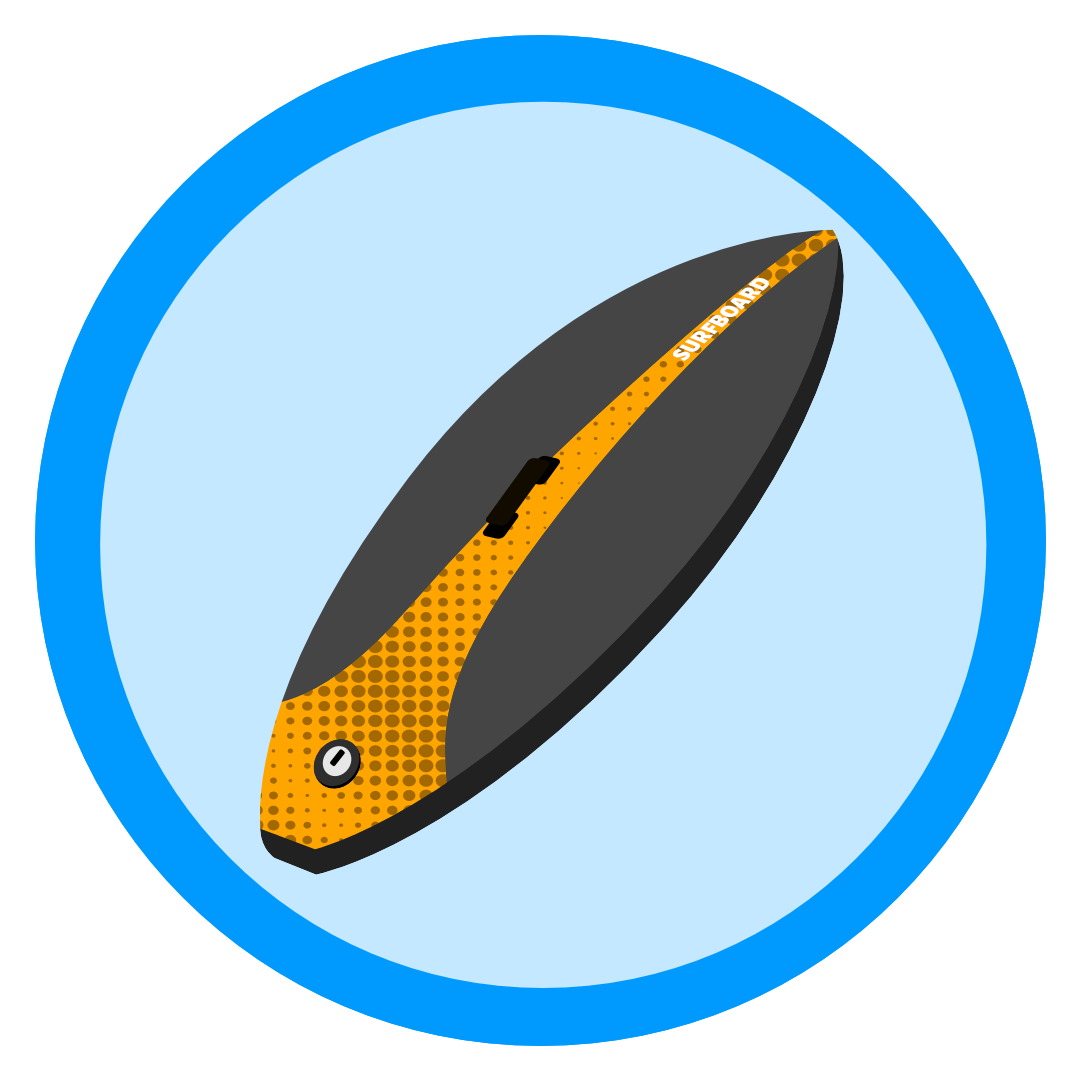 Surfing 
High maneuverability for catching waves. 

Live near the beach? SUP surfing is a great way to get some exercise while enjoying the outdoors. It's just like regular surfing, except you're already standing up — and you have the added benefit of a paddle.
Most surfing iSUPs are shorter (around 9 to 10 feet), with a narrow deck that allows for sharper turns and more control. Most designs have a moderate nose rocker (front curve) to help you navigate waves with ease. 
Touring 
High stability for long-distance exploring. 

Want to explore your local waterways? A touring SUP prioritizes speed and efficiency for long-distance paddling.
Compared to all-around SUPs, touring paddle boards are longer (11 to 14 feet) and have a pointed nose similar to what you would see on a kayak. This helps the SUP move in a straight direction, so you can go longer distances before getting tired. The nose rocker is also lower, which aids in overall speed and glide. You'll find plenty of space on deck for fishing and camping equipment. 
Racing 
High speed and performance. 

As a beginner, racing is probably far from your mind — but it helps to know what makes a racing board so fast. These SUPs are similar to touring boards in that they also have a pointed nose (also known as a displacement hull). However, they are often longer (12.6 and 14 feet are the most common) and narrower compared to touring models. This allows the SUP to "slice" through the water, covering more distance with each stroke of the paddle.
Specialty 
For fishing, yoga, whitewater surfing & more.

Specialty SUPs are designed for specific activities, such as fishing, whitewater surfing or SUP yoga. For example, a yoga board may have a wider deck for stability, with a thicker deck pad for added comfort and grip. If you're planning to get a specialty SUP, consider how often you'll be doing the activity it's designed for. If it's not very often, an all-around iSUP is a better choice that won't limit your leisure activities.
So, which type of paddle board is best for beginners? 
If you're a total beginner, choose an

all-around iSUP

. It's versatile and stable, making it the perfect entry point into the world of paddle boarding. Whether you want to surf, fish or go exploring, an all-around board will let you enjoy a wide range of activities. 

If you live near the beach and plan to use your SUP there exclusively, a

surfing iSUP

is also a good starting point. 
How to choose the right SUP size 
"One size fits all" does not apply when it comes to inflatable stand up paddle boards. However, the most popular iSUPs are between 10ft to 11ft in length, which gives you a good idea of where to start your search. In general, the larger the SUP, the more stable it is — so you want to pick a board that's large enough to support you without being unwieldy in the water. 
If you've decided on getting an all-around board, or you want a SUP to share with your family, the easiest way to choose a board is to look at the volume or weight capacity. 
Volume

is the amount of space that a board occupies. It is measured in cubic litres or simply litres.

Weight capacity

is the total weight that a board can carry on water. It is measured in kilograms or pounds. 
The higher the volume, the more weight a board can support. Most 10ft to 11ft inflatable stand up paddle boards have a weight cap of up to 150kg (330lbs), which means that they can support most users. Choose the shortest all-around board that can support your weight (plus any cargo you want to carry). If you're planning to paddle with your kids or pets, make sure your combined weight is under the board capacity as well. 
However, if you have more time to shop for an iSUP, you should also consider its length, width and thickness — plus the activities you'll be doing on it. Breaking down all of these factors can get too confusing, so we'll look at it in general terms: 
Length

— Longer SUPs are faster, but shorter ones are easier to maneuver. Choose a longer board for racing and touring, and a shorter board for SUP surfing. 
Width

— The wider a SUP, the more stable it is. However, a SUP that's too wide will be difficult to paddle on. A board that's between 76 to 86 centimetres will be comfortable for most beginners. 
Thickness

— The thicker the board, the more rigid it is. For new paddlers, a thickness of 12 to 15 centimetres is recommended. 
Choosing the best SUP for beginners is about balancing these aspects and finding the right board for your paddling style. The most important thing is stability — this will help you stay balanced on your board and gain more confidence faster as you SUP. 
iSUP fin systems 
Most all-around paddle boards have a 2+1 fin system, which means they have two smaller side fins and one removable main fin. Fins help the board stay straight on its course, so you can paddle more efficiently without snaking back and forth.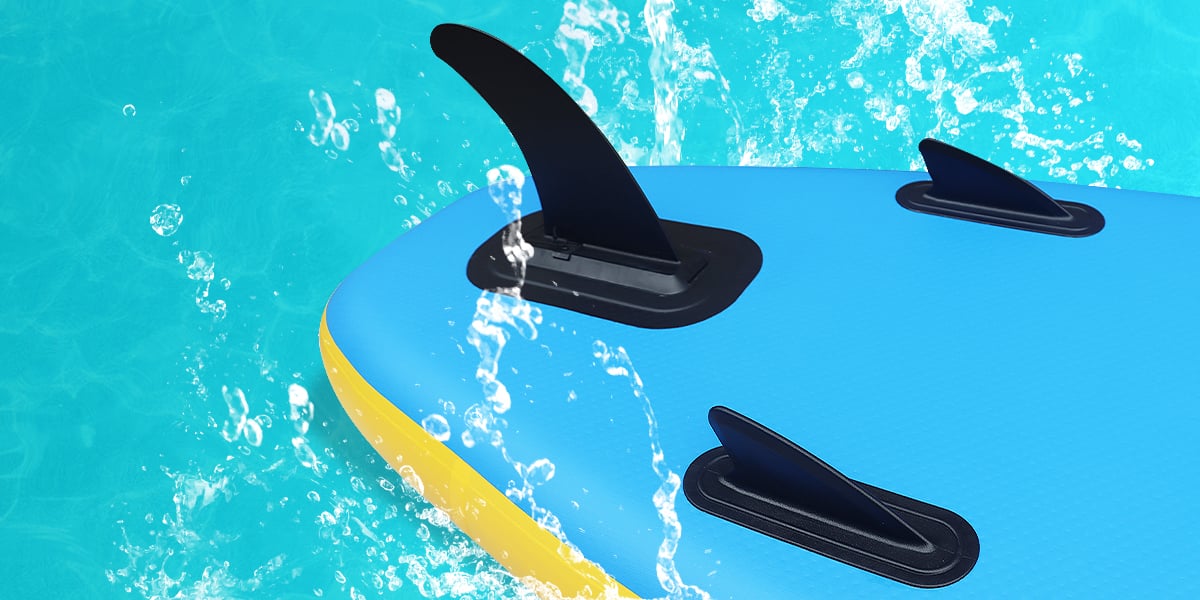 The 2+1 system is great for beginners because it's very flexible and easy to use. You can remove the main fin in shallow waters, or pop it back on for surfing. Often, the main fin is interchangeable, so you can use a different fin depending on what activity you'll be doing. 
Not all iSUPs have removable side fins, but you can find boards with a fully customisable setup. This allows for more control over your board's performance. 
Other popular fin systems include: 
Single-fin setup

— A single, long fin (either permanent or detachable). Great for activities that require speed and stability, such as racing and touring. However, the length of the fin prevents use in shallow water settings. 
Thruster (3-fin) setup

— This is similar to the 2+1 setup, except the fins are all the same size. It provides stability and tracking but is less versatile due to the lack of a long fin. 
iSUP paddles 
The paddle is the most important accessory you need for stand up paddle boarding. A good paddle can spell the difference between a fun paddling tour and an exhausting one. As a beginner, you'll want to look at two things: the weight and length of the paddle. 
Paddle Weight

— A heavy paddle may seem more durable, but remember that you'll be holding it for quite a long time. Most beginner paddles weigh around 1kg each, which is light enough for leisure paddling. If you're planning to go touring, carbon fiber paddles are the most lightweight, but they can be quite expensive. 
Paddle Length

— The length of your paddle plays a huge role in your iSUP experience. However, it also boils down to personal preference. We recommend using a paddle that's 22 to 25 centimetres above your height. An adjustable-height paddle is a good option because you can freely change the length. Once you know your preference, you can get a fixed-length paddle and cut it down to size. 
iSUP accessories and extras
To make your beginner iSUP experience as smooth as possible, you want to choose quality accessories to go with your paddle board. These include: 
Pump

— The size of an iSUP means you can't use any old pump you have lying around. A double-action SUP pump lets you inflate your board in half the time, while still being light enough to carry in a travel bag.  Some paddlers also use an electric pump, which is usually powered by a 12V car socket. 
Leash

— More than just an accessory, a SUP leash will keep you safe throughout your paddling sessions. Your SUP is essentially a giant flotation device, so you don't want to be separated from it should you fall into the water. Most SUPs are sold with a leash, but you should always check if it's appropriate for the activity you'll be doing. For example, a standard leash is not ideal for whitewater surfing, as it can get tangled around rocks. 
Travel Bag

—

Your SUP bag should serve two purposes: for storage and for travel. Choose a spacious bag that can fit your board and accessories while being compact enough to carry. A well-constructed bag will help you immensely whether you're driving, flying, or hiking to your destination.

       
Inflatable paddle boards for sale in Australia 
Ready to buy your first stand up paddle board? The Kahuna Hana Inflatable Stand Up Paddle Board is an all-around SUP designed for leisure paddlers and beginners. It comes with everything you need for an awesome SUP adventure, including a carry bag, double-action pump, an aluminium paddle and a safety leash. With three sizes available, you're sure to find the best beginner SUP for your body type and paddling style.