Want to spend more time outdoors with the kids? Spruce up your home with these kid-friendly backyard ideas!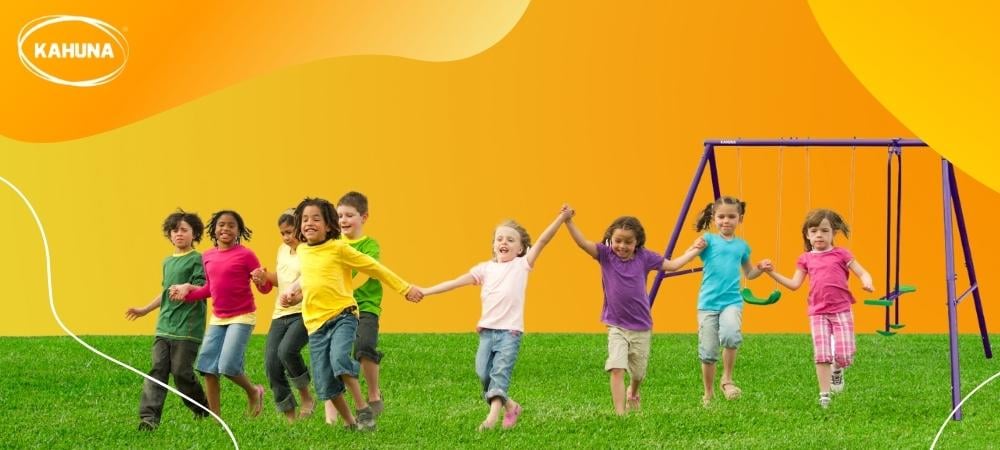 We all know that spending time outside has plenty of benefits. Research shows that spending just 5 to 15 minutes outside can help you improve your sleep and focus, get enough vitamin D, maintain a healthy weight and boost your creativity. But with so many indoor activities (from schoolwork to video games), it's not always easy to get the kids outdoors.
That said, designing a kid-friendly backyard is the easiest way to make sure that your little ones get enough outdoor play and sunshine! A beautiful yard will encourage your kids to explore, experiment and challenge themselves — all while enjoying the lovely scenery.
Here are 14 lovely kids' backyard ideas to get you inspired:
1. Sandbox
We all know how much kids enjoy spending time at the beach building sandcastles and other structures. They never seem to get tired of it! 
Thankfully, you don't have to drive out just to let your kids play in the sand. Instead, you can inspire your kids' creativity by purchasing a sandbox playset for them. They can even decorate the sandbox as they wish!
Another great option is a DIY sandbox. You can make one with supplies such as wood, nails, sand and other decorative items from your local hardware store. To make it kid-safe, you can task the kids with being your 'assistant' and handing you the items as you build or even have them accompany you to the hardware store to do the shopping!
2. Mini garden town
Starting a garden won't only make your yard pretty — it's also a great educational activity for kids! Planting seeds and other greens is sure to get your little ones excited, especially if you show them what their seeds could grow into.
While you do the planting, the kids can also arrange pots and mini figurines to make your garden look like a real-life mini village!
Another variation of this is to build a flower garden in your backyard. Pick out some nursery flowers and have your kids decide where to plant them in your garden. To turn this into an ongoing activity, encourage them to water the plants daily and teach them about how plants grow!
3. Backyard park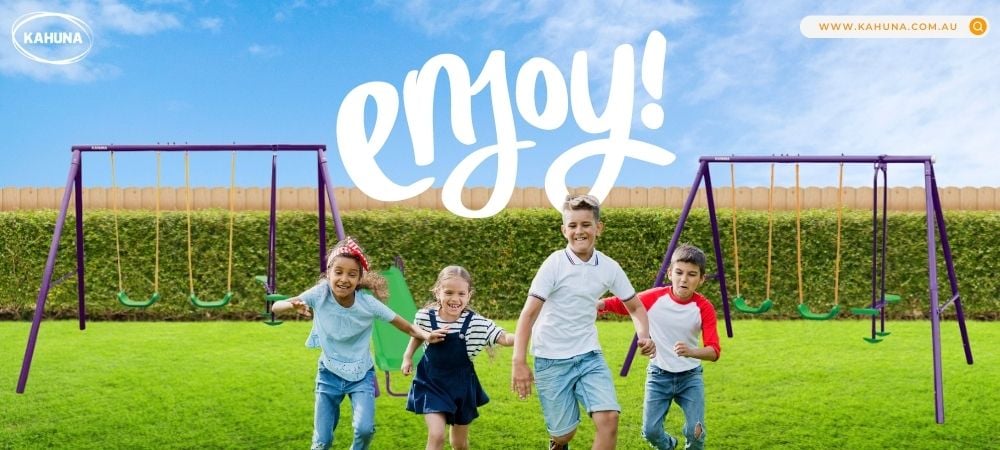 Many kids dream about having a playground of their own, so why not make it happen for yours? By purchasing a swing set or swing set and slide duo, you'll be hitting two birds with one stone: (1) providing your kids with a fun activity to get them moving, and (2) making your backyard stand out from the neighbours!
4. Hang a hammock 
If you have trees in your backyard, consider setting up a hammock with your kids. You can turn this into a 'self-care' and retreat area that you or the kids can go to whenever you need to relax and wind down. Feel free to get creative with hammock patterns and textures to add a pop of colour to your backyard.
5. Chalk it up
Do you have concrete anywhere in your backyard? Get the kids some colourful chalk kits and let them unleash their inner artist. Watch them draw rainbows, monsters and flowers or play hopscotch with their friends! This is one of the easiest and simplest backyard ideas your kids will surely love!
6. Blackboard fun
Installing a blackboard along your fence is a fantastic way to decorate your backyard while allowing your kids to put their minds to use. They can practise math, art or anything else they learn in school! This is a simple yet super engaging idea that will have the kids drawing for hours on end. Once they're done, all they need to do is wipe off their work — and they have a blank slate for another day!
7. Treehouse transformation
Have a treehouse in your backyard? Why not let your kids get creative and give life to the plain treehouse? They can turn the treehouse into a pirate ship, a cruise ship, a cozy sanctuary, a classroom, a castle and more! This can be done with cardboard, textured fabrics, fairy lights and other arts and crafts tools! They might need some help from grown-ups if they're using cardboard or other materials that need cutting.
8. DIY fire pit
If you're looking for a longer-term project that the kids can work on during the summer, one of our top backyard ideas for kids is to create a fire pit from scratch. There's nothing better than huddling around a warm fire on a weekend evening with family to exchange stories and have some good laughs!
You can build a fire pit with materials like brick, rocks, wood or other sturdy materials you have on hand. Kids can get involved by helping choose the material and painting the fire pit if the material allows. Be mindful of safety considerations when painting the firepit, such as whether the paint is flammable and the type of material being painted.
9. String lights
String lights add a nice ambience to your backyard particularly on summer nights while also adding a decorative element. Purchase some string lights in different shapes and colours and let your kids decide where they want to hang them!
10. Lemonade stand
We've all seen the kid around the block with a lemonade stand, but what if you could bring this idea to your backyard? It's both a great way to teach your kids how to be hospitable and generous when guests come over while also adding a nostalgic and old-school feeling to your garden.
11. Make a bird feeder
Bird feeders can be bought, but why not repurpose an old wine bottle into a bird feeder? This is an inexpensive activity and one of the most underrated kids' backyard ideas. Bird feeders will decorate your backyard, attract some feathered friends and get the kids excited!
12. Build a kids' corner
Include a kids' corner in your backyard with activities like colourful hopscotch, hula hoop, toy cars and more! To create a hopscotch area, you can install stepping stones and have your kids use chalk to draw the numbers on the stones.
13. Add a sports area or climbing wall
If your kids are sports fanatics, you can customise an area of your backyard to include elements of their preferred sports. If they like soccer, have them arrange a mini soccer field with artificial grass, mini nets and of course – soccer balls. If they're into climbing, you can also install a climbing wall in your garden. Don't forget the crash pad!
14. Gate decoration
If you're open to having your backyard fence or gate decorated, this is a great activity to add some colour and flair to your home! Your kids can either paint, decorate or draw on the gate with chalk.
With these kid-friendly backyard ideas, you'll be well on your way to spending more family time outdoors — and making more wonderful memories!