If you just got a new trampoline, you're probably wondering the best way to care for it. After all, it's a big investment — and you want to make sure that your kids can enjoy it for years.
Thankfully, maintaining a trampoline is simple, and by doing a few tasks, you can keep yours in tip-top shape for many seasons of bouncing.
In this post, we'll talk about trampoline care and maintenance, from the initial setup to parts replacement. We'll also answer a few questions, such as how to clean a trampoline, how to winterize a trampoline, what to wear while bouncing and more. Let's get to it!
Trampoline Care and Maintenance Tips
Set it up in the proper location
Follow the manual
Check your trampoline before every use
No shoes and jewellery
Remember the weight limit
Stay in the centre of the jumping mat
Keep your trampoline clean and clear
Perform proper seasonal care
Replace parts when needed
Trampoline Maintenance Tips: Before Bouncing
Set it up in the proper location
Location has a huge impact on a trampoline's lifespan. The ideal location would be a level, shaded area away from any obstructions. Try to avoid direct sun exposure, or use a trampoline roof to help protect your jumping mat.
You should also keep your trampoline away from any trees. Fallen leaves and branches can accumulate on the mat or put stress on the frame, causing them to break down earlier than normal. Choose a spot without overhead hazards and always sweep off any twigs, leaves, or branches on the mat.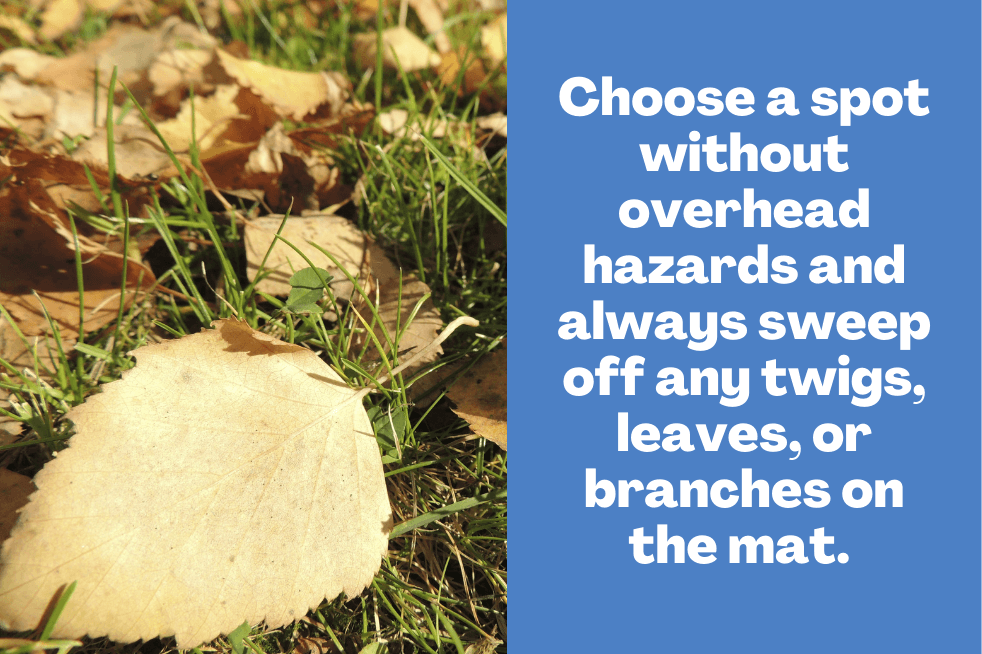 Follow the manual
Setting up a trampoline may seem straightforward, but you should always follow the manual during installation. Many large trampolines require two people to set up, and quality models will come with all the necessary tools for assembly.
Not following the manual can void your warranty, so make sure to read all instructions carefully. You can also call the supplier if you need help during the process.
Check your trampoline before every use
You don't need to do a full inspection daily. Just do a walkaround check and answer these questions:
Is the padding secure?
Is the net intact (no holes, tears or stretching)?
Is the trampoline mat level (no sagging)? Is it free of holes or tears?
Are the frame and poles intact and free of rust?
Is the trampoline clean and dry?
Is the space under and around the trampoline clear?
We also recommend doing an in-depth check as part of your regular trampoline maintenance. Choose an interval that works for you, whether it's weekly, monthly or every two months. You should also perform this check after storms and snow, or if you went a long time without using the trampoline.
During these checks, pay closer attention to each part of the trampoline: the frame, padding, enclosure, net poles, jumping mat, bolts and springs or elastics.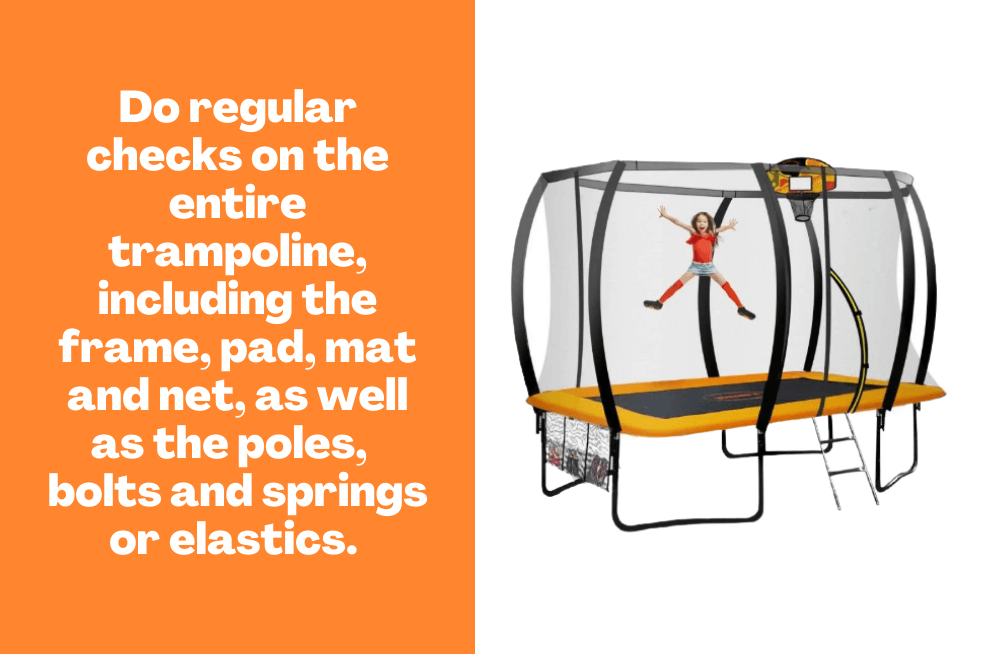 Make sure to replace any worn, missing or defective parts. Most suppliers carry spare trampoline parts, so you shouldn't have to wait long before you and your kids can enjoy bouncing in the yard again.
Trampoline Maintenance Tips: While Bouncing
No shoes and jewellery
It's not just shoes and jewellery — anything that can snag on the enclosure or mat is a big no-no.
Shoes often have hard soles that can wear down the mat, plus they bring in dirt that will make your trampoline harder to clean. For this reason, it's best to jump barefoot or with non-slip socks.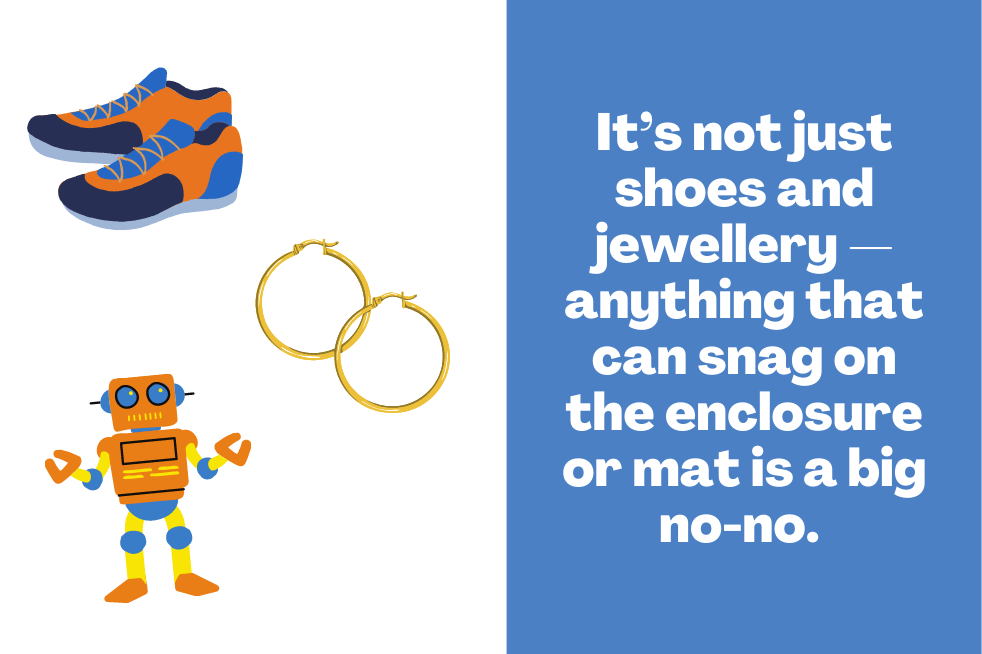 Lastly, don't let your kids bring hard toys into the trampoline. Aside from potentially damaging the net, toys can also cause injuries if your kids fall on them. Better safe than sorry!
Remember the weight limit
Trampolines are not just for bouncing — they also make for great outdoor hangouts. However, it doesn't mean the whole brood can get on the trampoline at once! Excess weight puts undue pressure on the frame, which can cause it to break down faster. Check the manual for your trampoline's weight limit, and always follow it even when users aren't jumping.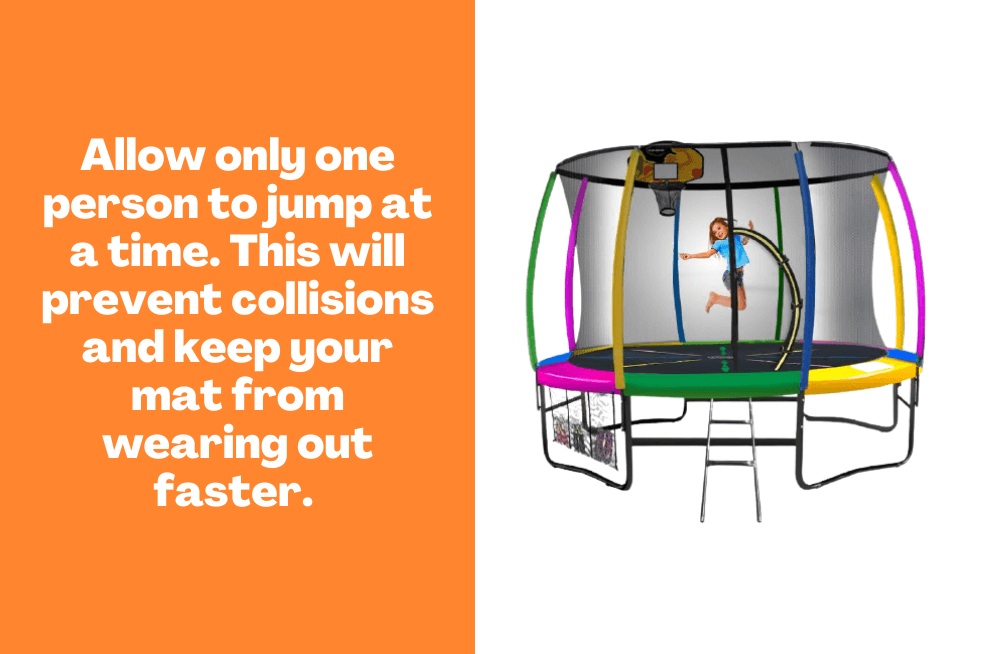 Lastly, allow only one person to jump at a time. This will prevent collisions and keep your mat from wearing out faster.
Stay in the centre of the jumping mat
Round trampolines naturally lead users to the middle of the mat, but it's not always the case for other shapes. Even so, you should always stay away from the trampoline's edges even if you have an enclosure.
Also, you should avoid leaning or intentionally falling on the net. This can wear out the fabric and create holes or tears, which is a sign that the net needs to be replaced.
Year-Round Trampoline Care and Maintenance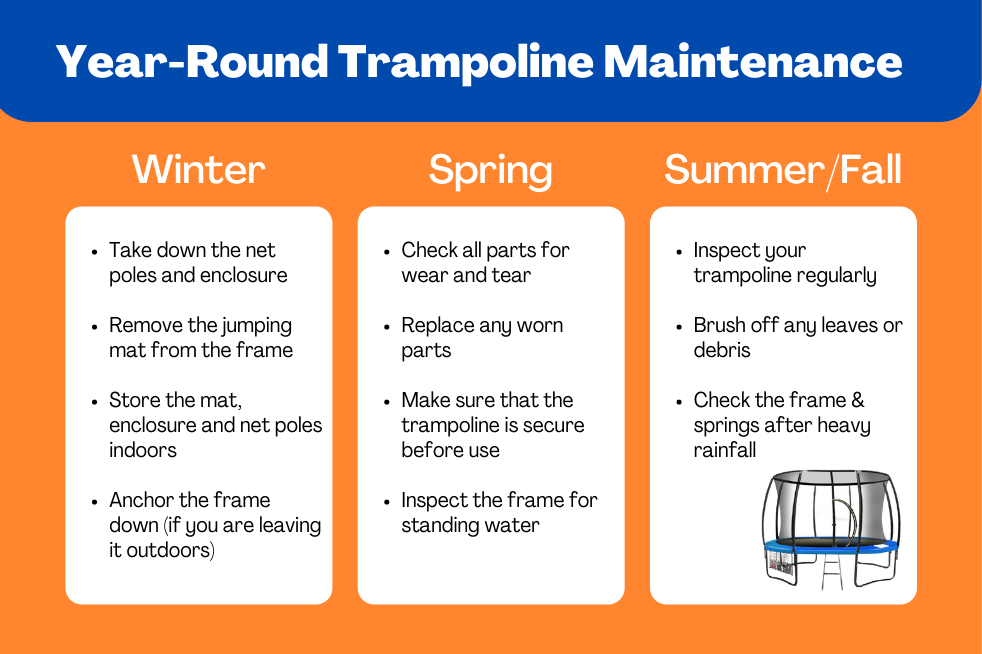 Keep your trampoline clean and clear
Just like all outdoor play equipment, trampolines also need a little bit of cleaning. Make sure to remove any fallen leaves, twigs, pebbles or debris before jumping. Use a soft brush to remove any dust, as hard bristles can damage the mat.
If you need to clean your trampoline, you can wash it with some warm soapy water and a soft-bristled brush. Rinse off the soap solution, wipe off the frame and let the trampoline air-dry.
Perform proper seasonal care
Winter Trampoline Maintenance
With the weather being so chilly, it's natural to spend more time indoors during winter. That means your trampoline may not get used as often. If you know you won't be bouncing outdoors 'til spring, we recommend winterizing your trampoline.
To winterize your trampoline:
Take down the net poles and enclosure
Remove the jumping mat from the frame
Store the mat, enclosure and net poles indoors
Anchor the frame down (if you are leaving it outdoors)
If you choose to leave your trampoline up, make sure to brush off any snow buildup. A large amount of snow can cause the mat to sag and take away its bounciness.
Spring Trampoline Maintenance
If you packed up your trampoline during winter, spring is a lovely time to do a bit of routine maintenance. Before reassembling your bouncer, check each part carefully for signs of wear and tear. This could include holes on the mat or enclosure, a broken entrance zipper, rust on the frame or any missing springs. Replace any worn parts and make sure that the trampoline is secure before using it again.
You should also inspect the frame for any standing water, as prolonged moisture can lead to rust.
Summer and Autumn Trampoline Maintenance
With pleasant weather comes more opportunities to play, flip and bounce. During the summer and fall, you can keep your trampoline in tip-top condition simply by doing your regular inspections. You should also check the frame and springs after heavy rainfall, as there might be stray leaves and twigs caught in the components.
Replace parts when needed
Nothing lasts forever — not even the most durable trampoline! However, you can extend the life of your bouncer by replacing any worn-out parts. Often, the enclosure and mat will wear out faster than the frame, but replacements are affordable compared to buying a whole new trampoline.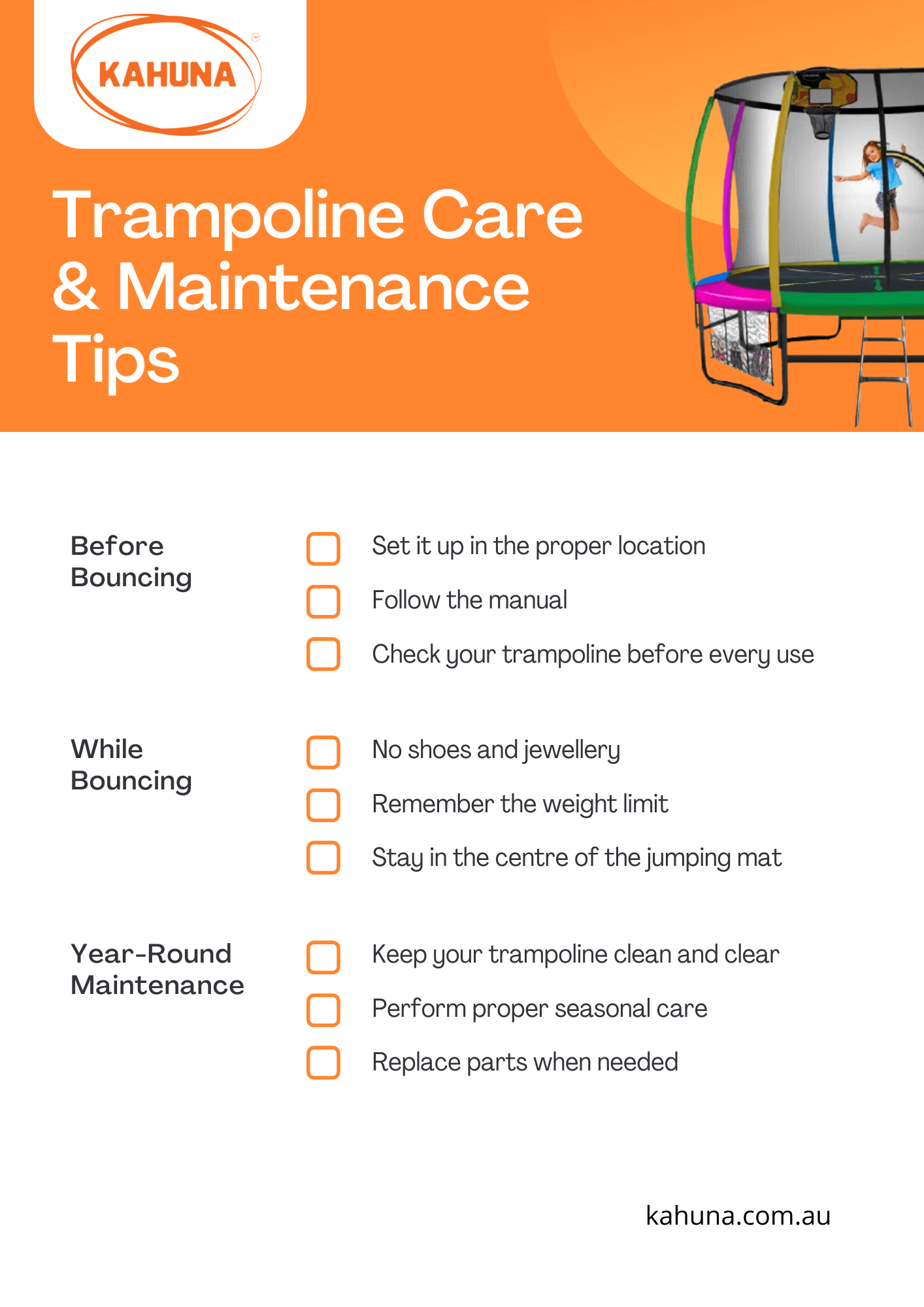 Know when to replace your trampoline
No matter how well you take care of a trampoline, it's inevitable that it will get worn down over time. When this happens, it's time to shop for a new backyard bouncer. Find the best trampoline online at Kahuna! Our selection is the largest Australia has ever seen, with hundreds of customisation options available through our exclusive 3D Designer.
You can also shop our trampolines online Australia wide! Whether you're looking for a trampoline in Brisbane, Melbourne or Sydney, our warehouse team will get your trampoline purchase dispatched and delivered — fast! Our trampolines are manufactured to the highest safety standards and are equipped with UV-resistant nets and pads to last under the sun. Browse our online selection today and find the perfect addition to your yard!